Marquis de Lafayette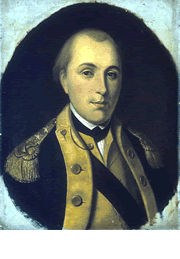 Marquis de Lafayette, 1757-1834.
Marie Joseph Paul Yves Roch Gilbert du Motier, Marquis de Lafayette, left France in early 1777 to seek service in the American Revolution. Offering to serve at his own expense, the 19 year old was commissioned a major general in the Continental Army. He was wounded slightly at the Battle of Brandywine and served in the army until January 1779. He briefly returned to France where he helped lay the groundwork for sending a French expeditionary force to serve under Washington.
Lafayette returned to America in April 1780. Lafayette had developed into a loyal and excellent officer under Washington and, having demonstrated leadership in several battles, he was chosen to command the Continental forces in Virginia in 1781. Lafayette became one of three division commanders in the American army during the Yorktown campaign.
Lafayette returned to France in December 1781 and went on to serve in the French army. He also continued to advance American interests in France by assisting the U.S. minister to France, Thomas Jefferson, with several economic and political matters.
A moderate in the French Revolution, Lafayette sought reforms in French society but was distrusted by French radicals. Captured and imprisoned by the Austrians for a year, he was freed by Napoleon in 1797. In 1824, Lafayette returned to the United States for a year long triumphant tour that included a stop at Yorktown. It was reported that Lafayette was met by "demonstrations of frenzied enthusiasm without precedent or parallel in American history."
Last updated: February 26, 2015