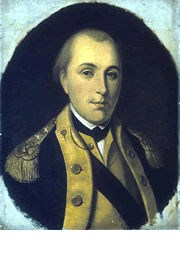 " This devil Cornwallis is much wiser than the other generals with whom I have dealt. He inspires me with a sincere fear, and his name has greatly troubled my sleep. This campaign is a good school for me. God grant that the public does not pay for my lessons." Marquis de Lafayette, July 9, 1781.
Marquis de Lafayette
On March 14, 1781, 23 year-old Major General Marquis de Lafayette arrived in Yorktown, Virginia, to start a campaign against the British that would culminate in their defeat six months later. Outnumbered and poorly supplied, Lafayette strove to improve the circumstances and numbers of his troops, often pledging his own funds to secure shoes and clothing for his soldiers. He also adopted a strategy similar to the one General George Washington had used thus far in the American Revolutionary War, that of limited engagement while preserving his forces.
Lafayette's first objective was to capture the American traitor, Benedict Arnold. Arnold, now a Brigadier General in the British army, had been sent to Virginia in December 1780 to raid military supply bases, gather support from loyalists, and weaken Virginia's ability to aid Major General Nathanael Greene's patriot forces in the Carolinas. Washington, intent on bringing Arnold in, sent Lafayette south with 1,200 troops and support from a small French fleet. On March 16, a naval battle between the French and British occurred near the mouth of the Chesapeake Bay, with the French fleet returning to Rhode Island and the British fleet linking up with Arnold and gaining control of the Chesapeake Bay. Lafayette, whose land forces were still at Annapolis, Maryland, could not combat Arnold, who was soon reinforced with 2,000 troops commanded by Major General William Phillips. Phillips, placed in overall command of British forces in Virginia, proceeded to conduct another raid, taking Petersburg on April 25. Phillips then moved towards Richmond, but by then Lafayette had his troops there and thwarted the British attempts to take Virginia's capital.
On May 13, Phillips died in Petersburg from fever, and Arnold was temporarily in command of the British army in Virginia. One week later, however, Major General Charles Lord Cornwallis arrived, bringing his army out of the Carolinas. With additional reinforcements from New York, Cornwallis was in command of over 7,000 troops. Arnold returned to New York. Lafayette, facing this new foe, wrote Washington on his ability to combat the British: "...A General defeat which with Such a proportion of Militia Must Be Expected would involve this State and our affairs into Ruin, Has Rendered me Extremely Cautious in My Movements. Indeed, I am more Embarassed to Move... Was I any ways equal to the Ennemy, I would Be extremely Happy in My present Command—But I am not Strong enough even to get Beaten."