Lieutenant Colonel Alexander Hamilton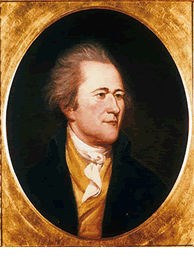 Hamilton, Alexander. 1757-1804.
Alexander Hamilton was born in the British West Indies, the son of a minor Scottish nobleman and a local woman. The early life of Hamilton was not easy. His father left him at an early age and then his mother died soon after. He became orphaned at the age of eleven. He was, however, able to secure a position as the apprentice of a local merchant. The merchant realized that Hamilton had potential as a merchant but lacked formal schooling. The merchant, with assistance from Hamilton's aunts, sent him to New York to go to school.
Hamilton was an early supporter of the American cause. On March 14, 1776, the State of New York commissioned him a captain with authorization to raise a company of artillery for the defense of New York City. Hamilton successfully raised the company. The unit was transferred into the Continental army when the British threatened to attack. Hamilton and his company formed a part of Henry Knox's artillery regiment and fought in the battles around New York City.
The company went on to fight at the Battles of Trenton and Princeton. Hamilton was widely known throughout the army for his skill as a combat commander. His reputation as a commander, and his skill as a writer, gained him the position of George Washington's secretary and Aide-de-camp. It was at this time that Hamilton was also promoted to the rank of lieutenant colonel.
Hamilton was not satisfied being a staff officer. He longed for a field command and the glory it would bring. He demanded that Washington give him a field command. In 1781, Washington appointed him the commander of a light infantry battalion in Lafayette's Division.
During the Siege of Yorktown, men of Lafayette's Division were chosen to assault Redoubt 10. The command of the attack was originally given to Gimat, another battalion commander in the division. Hamilton, claiming seniority and his status as officer of the day, demanded that he be allowed to lead the attack. George Washington eventually allowed Hamilton to lead the attack. Hamilton was breveted a colonel on September 30, 1782. He was discharged from the army less than three months later.
The post war career of Alexander Hamilton is much better known than his military career. He served in Congress and worked for ratification of the Constitution. He became the first Secretary of the Treasury and even served as the Inspector-General of the army from 1798-1799. Hamilton is, perhaps, best known for his duel with Aaron Burr. The duel was fought in July 1804 over political differences. Hamilton was mortally wounded and died the next day.
Hamilton's original artillery unit was never disbanded. It has remained on active duty until the present day. It became the 1st Battalion, 5th Field Artillery Regiment.
Last updated: February 26, 2015