Brigadier General Duportail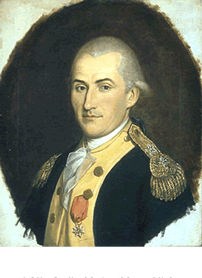 Duportail, Louis Le Begne de Presle. 1743-1802.
Colonel Louis Le Begne de Presle Duportail was granted leave from the French army in 1777 to join the Continental army at the request of American diplomat, Benjamin Franklin. A military engineer, his services were especially important to the fledgling American army. Duportail was appointed commander of the Engineers for the Continental army, with the rank of brigadier general.
After serving with Washington in the northern colonies, Duportail was detailed to General Benjamin Lincoln in South Carolina. He was captured with the American army at Charleston in May 1780. He was exchanged in November that same year and rejoined the American army. He served as Chief Engineer of the American forces at Yorktown, laying out the siege lines and artillery positions. Washington commended Duportail in a letter to the President of Congress, and was promoted to major general in November 1781.
Duportail returned to service in the French army in 1783. He escaped to America during the French Revolution and settled on a small farm near Philadelphia. Returning to France in 1802, he died on board ship and was buried at sea.
Last updated: February 26, 2015