Lieutenant Colonel Henry Dearborn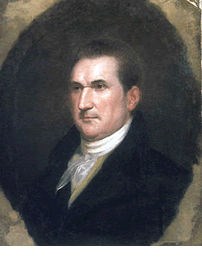 Dearborn, Henry. 1751-1829.
Henry Dearborn was a doctor in New Hampshire at the outbreak of the American Revolution. Upon hearing of the events at Lexington and Concord, he would lead his militia company to Cambridge, Massachusetts, and joined the American army. His company became part of John Stark's 1st New Hampshire Regiment and fought in the Battle of Bunker Hill.
The next military activity for Dearborn was leading a company of New Hampshire troops in the invasion of Canada. He, and some of his men, were captured during the attack on Quebec. He was paroled and, after being exchanged, became a major in the 3rd New Hampshire Continental Regiment. Dearborn was promoted to lieutenant colonel after fighting at both Ticonderoga and Saratoga.
In June 1781, Dearborn became Assistant Quartermaster General in the American army. He served in this capacity during the Yorktown campaign. Dearborn remained Assistant Quartermaster General until 1782 when he assumed active command of the 1st New Hampshire Regiment. Dearborn was discharged from the army in July 1783 after having served over 8 years in the army.
Dearborn moved to Maine where he was commissioned a general in the militia. He went on to serve as Secretary of War in the Jefferson administration. Dearborn was made the senior major general in the American army at the outbreak of the War of 1812. He served without distinction until leaving the army again in 1815.
Last updated: February 26, 2015