Lieutenant General Charles Cornwaliis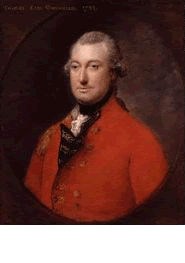 Cornwallis, Charles, 1st Marquis. 1738-1805.
Charles Cornwallis was born into old English aristocracy. Educated at Eton, he joined the British army at the age of 18 as an ensign in the Grenadier Guards. Cornwallis differed from many aristocratic officers in the fact that he actually studied military science. He took whatever opportunities were available to increase his knowledge on the way that war was fought and won.
Cornwallis, like many officers of his generation, fought in Germany during the Seven Years War. He rose to become lieutenant colonel of the 12th Regiment of Foot. At the death of his father, Cornwallis temporarily set aside the military and served in Parliament. It was noted that Cornwallis sided with the American colonists on all the major issues of the day.
However, when the American Revolution began Cornwallis, now a major general, decided to serve King and country and fought against the Americans. His first service in America was with General Clinton in the failed campaign against Charleston in 1776. He went on to fight in the battles around New York and even led the pursuit of the retreating American army across New Jersey.
Cornwallis was granted leave to go visit his wife in England. Before he could leave, the Americans won the victory at Trenton and Cornwallis hurried back to the army. Cornwallis went on to fight at Princeton, Brandywine and Germantown. It was not until December 1777 that Cornwallis was able to return to England, during which time he was promoted to lieutenant general.
Cornwallis returned to America in time to fight at Monmouth. He went home again in November 1778. Despite the death of his wife on his trip home, Cornwallis returned to America in time to join General Clinton for the capture of Charleston, South Carolina. He was given command of all operations in the south when Clinton returned to New York.
Cornwallis moved into South Carolina where, at Camden, he defeated the American army led by General Gates. He then entered into North Carolina and fought the American army, this time led by General Greene, at Guilford Courthouse.
Cornwallis, after meeting strong resistence in the Carolinas, decided that one way to lessen that resistence was to knock Virginia out of the war. Virginia was, at the time, the largest and wealthiest of all the colonies. Cornwallis' advance into Virginia resulted in the events at Yorktown. After enduring a massive artillery bombardment, Cornwallis was forced to surrender his army to the American and French forces.
Cornwallis was paroled immediately after Yorktown. He returned to England and was officially exchanged in March 1782. Cornwallis did not share in the blame for his defeat here at Yorktown and his reputation did not suffer. He went on to serve well in both Ireland and India.
Last updated: February 26, 2015