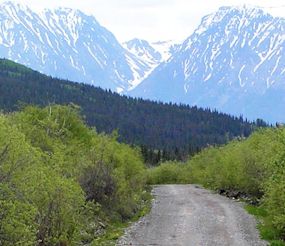 The McCarthy Road: Born On Rails

The 60-mile McCarthy road follows the old Copper River and Northwestern Railroad route. Although traffic and weather often result in potholes and washboarded surfaces, under normal summer conditions most passenger vehicles can make the trip. Please check on current conditions before heading out. You can inquire about road conditions at the Chitina Ranger Station.
Although regularly maintained by the State of Alaska, the gravel surface makes for slow travel. It will take about 3 hours each way to drive this road. Other hazards can make it even longer: there are curves with limited visibility, heavy rain can cause ruts and potholes, sharp rocks can cause flat tires, and narrow, one-lane bridges make maneuvering large vehicles difficult. In fact, large vehicles are not encouraged to drive this road. Under normal summer conditions, most two-wheel drive vehicles can make the trip without difficulty, but be sure to carry at least one spare tire and an adequate jack. If you don't want to take your own vehicle on the road, you can take a shuttle or fly there. There is NO GAS along the McCarthy Road. At this time, the last place to obtain fuel is in Kenny Lake, AK.
Are you curious about what you'll be seeing as you drive? Follow the McCarthy Road Guide as you drive along the McCarthy Road.
At the end of the road, you will find parking areas and two foot bridges that cross the Kennicott River and lead to McCarthy and Kennecott. Access to McCarthy is by foot, bike, or shuttle. From McCarthy, it's a five mile hike to the Kennecott historic mine area. For those who would rather not walk, there are shuttle rides available during the summer months.The McCarthy road provides access to interesting geology, great hiking, fishing, and camping, as well as the wonderful historic communities of McCarthy and Kennecott. Once you get to Kennecott, stop by the Kennecott Visitor Center for park information.