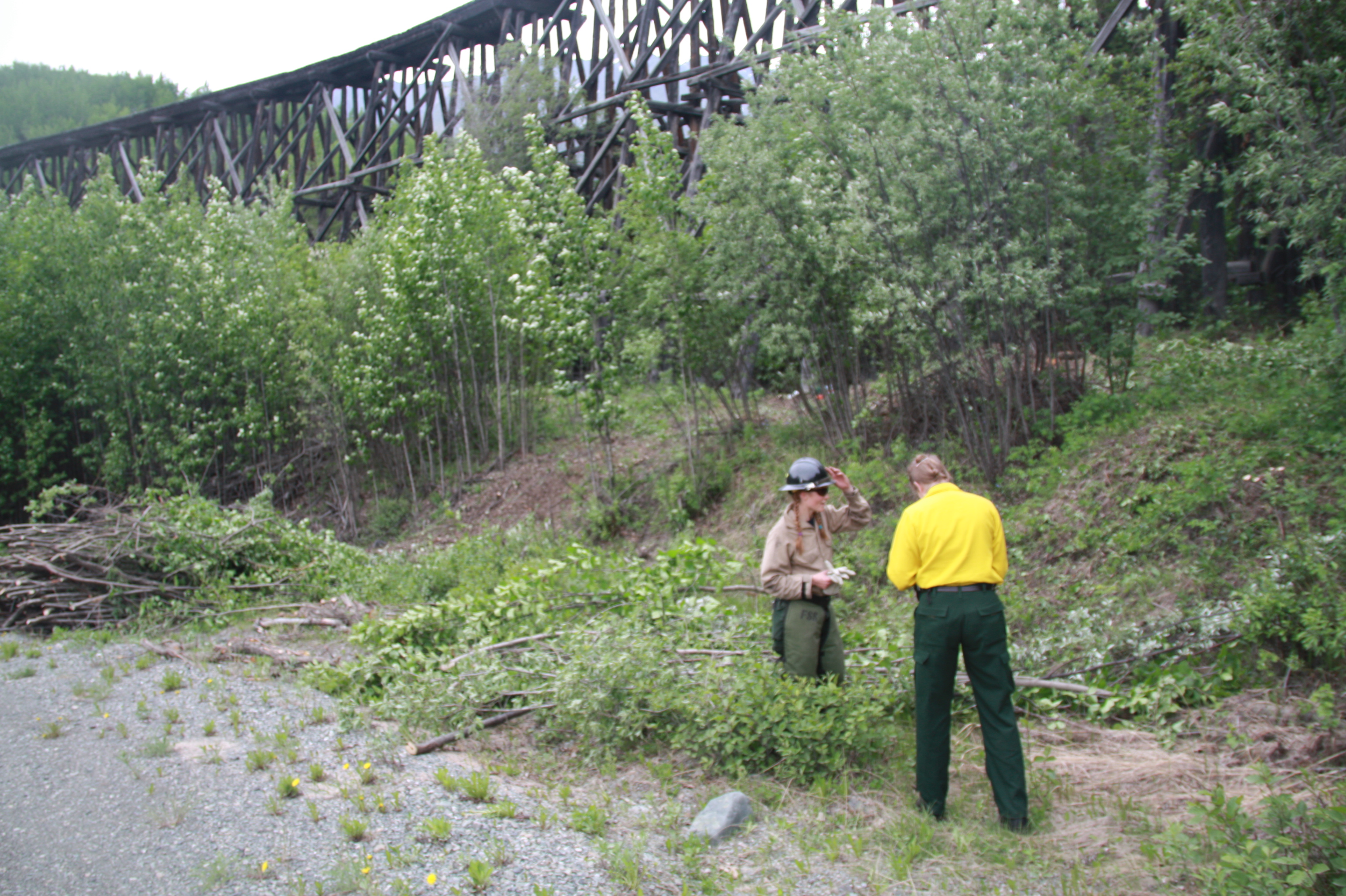 News Release Date:
June 8, 2011
Gilahina Fire Stays Quiet
(Copper Center, AK) – The weather started out warm and dry on the Gilahina Fire on Tuesday.The temperature rose to 64 degrees and the relative humidity dropped to 25% by early afternoon.It looked like the Red Flag Warning for elevated fire danger was merited.Then the clouds rolled in, bringing cooler, more humid weather.The Gilahina Fire stayed quiet.Today's forecast calls for conditions unlikely to cause extensive fire activity.
The Gilahina Fire has burned over 1,200 acres, much of it in an area with dead spruce and dense brush.Many areas near the fire have similar decadent vegetation.Fire consumes this wood and other vegetation, releasing nutrients into the soil.New growth after a fire makes excellent forage for wildlife.In areas that burn in a mosaic pattern, as this fire has, wetter areas and some patches of older vegetation survive.These can provide other forage and shelter for wildlife.
While there are no smokes visible from the air, personnel from the Whiskeytown Wildland Fire Module have been patrolling the fire, noting where the Gilahina Fire is still smoldering.Most of the heat is toward the northeast edge of the fire.
The Whiskeytown crew also began cutting some of the overgrown vegetation around the Gilahina Trestle, making it less likely a fire would reach and burn this historic structure.A locally-owned chipper will be brought in to chip and scatter the materials they are cutting.
The State of Alaska Division of Forestry and National Park Service are managing this fire cooperatively.The Gilahina Fire is five miles north of the McCarthy Road.There are no restrictions on the McCarthy Road.Pilots are reminded to watch for fire related helicopter and fixed-wing traffic, and be aware of the possibility of heavy smoke.The local victor frequency is 122.90.
 For more information about fires statewide, contact the Alaska Interagency Fire Information Center at 907-356-5511, or visit http://fire.ak.blm.gov/.