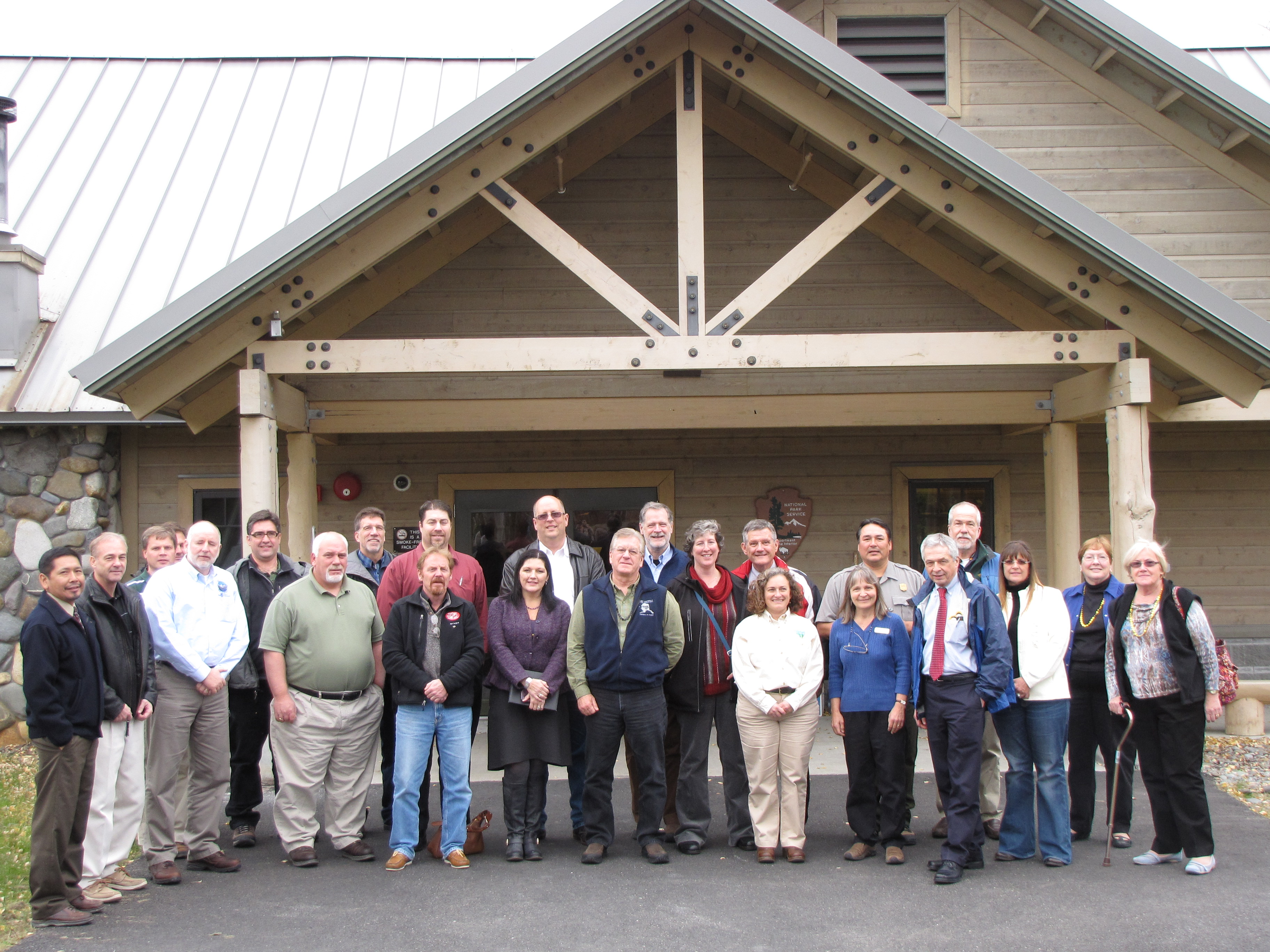 News Release Date:
October 12, 2012
Copper Center, AK -Wrangell-St. Elias National Park and Preserve (WRST) along with the Bureau of Land Management - Glennallen Field Office (BLM) and the Wrangell Institute for Science and Environment (WISE) played host the afternoon of September 26 to twenty Alaska School District Superintendents at the park headquarters theater building for a 'Partnership for Outdoor Learning" forum.
The program was presented by Glenn Hart, WRST Education Specialist; Marnie Graham, Public Affairs Specialist with the BLM; and Janelle Eklund, WISE president.Michael Johnson, Copper River School District Superintendent, was instrumental in coordinating the meeting. Glenn Hart stated: "We wanted to reach out to a broader audience of educators in Alaska to share the student programs that Wrangell-St. Elias National Park and Preserve and its partners have developed in the Copper River Valley and to plant the seed of opportunity for partnership outdoor learning in other communities; with the help of Superintendent Johnson, this was made possible."The programs and successes the partnerships have had in student programs and the value community partnerships provide to youth development, outdoor education and student career paths have all been made possible by local partnerships.More than 340 hours of student educational programing was provided during the 2012 summer season.WRST partnerships include the Copper River School District, Wrangell Institute for Science & Environment, Bureau of Land Management, Advocates for Victims of Violence, 4-H, Ahtna Heritage Foundation, Gakona Village, Copper River Watershed, Prince William Sound Science Center, and the State of Alaska Department of Natural Resources.WRST and its partners are responsible for more than sixteen youth educational programs each year that take place in Wrangell-St. Elias National Park and Preserve, the Copper River Valley and Valdez.Programs include:Aquatic Ecology Camps, Copper River Stewardship Program, Earth Discovery Day, Youth Hikes and Campouts, Youth Environmental Summit, Community Harvest Camp, Valdez Outdoors Program, Changing Seasons and Winter Fun Day.These programs are not only educational; they are a lot of fun for students and teachers as they self-develop and discover the wonders and adventures of the outdoor world.
For more information on Partnership for Outdoor Learning programs and how schools can participate, contact Glenn Hart, Education Specialist, Wrangell-St. Elias national Park and Preserve at 907-822-7238.