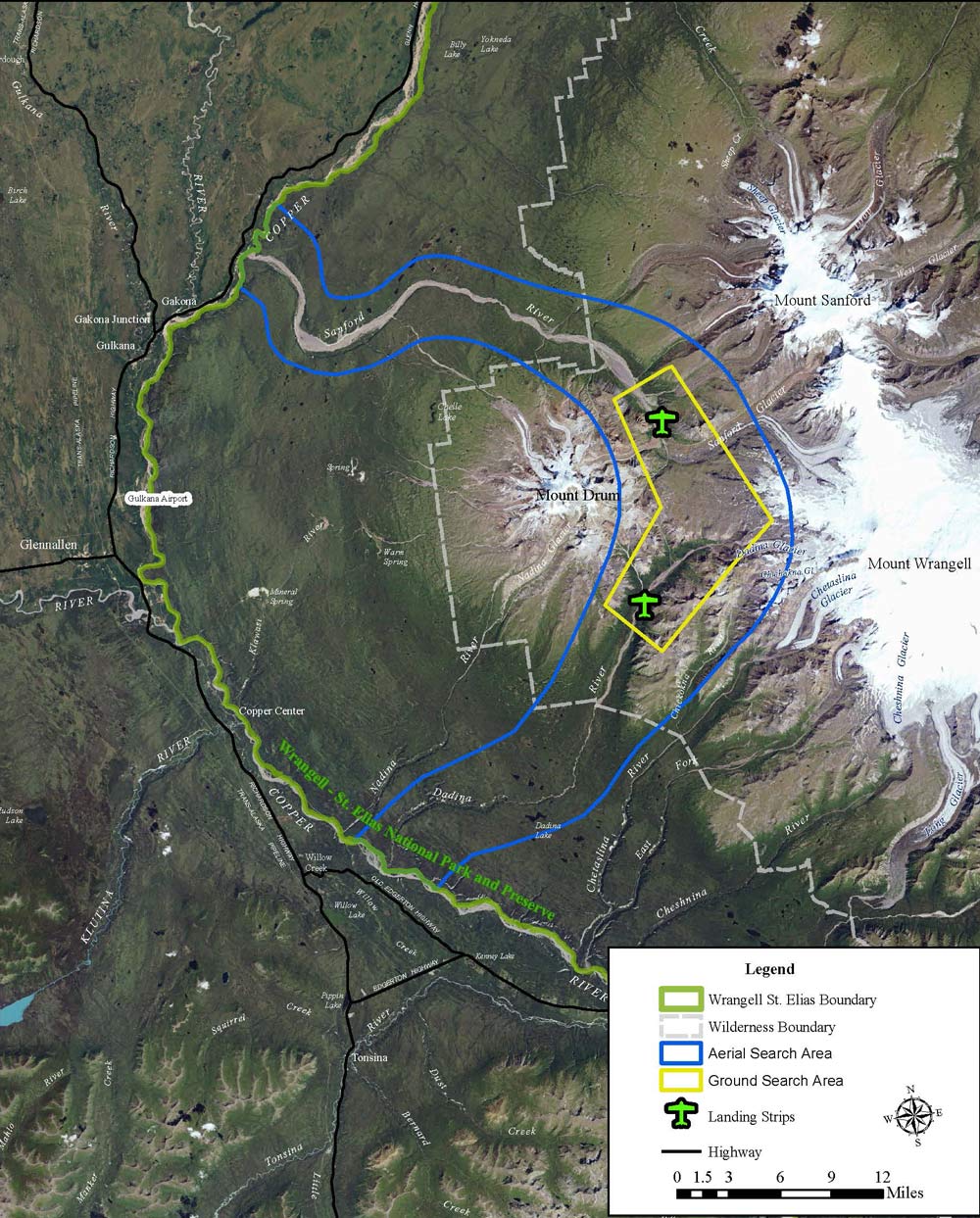 News Release Date:
June 29, 2018
Contact: Margie Steigerwald, (907) 822-7251
Copper Center, Alaska – Yesterday morning National Park Service staff from Wrangell-St. Elias National Park initiated an intensive air search for a missing Missouri couple who were hiking cross-country in a remote and rugged area east of Mount Drum. The couple were dropped off at Sanford Glacier airstrip on the east side of the Sanford River by Gulkana-based Copper Valley Air Service on June 22 for a six-day backpacking trip. They had planned to hike from the Sanford River across the Dadina Plateau ending at the Dadina River where an air taxi pick-up was scheduled for Wednesday morning. In addition to not being at the pick-up location, the couple missed two pre-planned satellite phone calls to the air taxi operator, one on June 26 and another on June 27, according to the Copper Valley Air pilot.
After the pilot landed at the pick-up location and saw no sign of the couple, he searched for them from the air for several hours and called the National Park Service to report the hikers as overdue.
By 6 p.m. last night there were 27 NPS personnel and five aircraft involved in the search including the NPS helicopter (Fire Pro) and the NPS PA-18 Top cub, an Alaska State Troopers spotter plane and two planes from Copper Valley Air. The NPS personnel include three ground crews that were transported Thursday evening to strategic locations along the hikers' proposed route to begin searching for clues on the ground.
This morning, the three NPS crews resumed the ground search and two NPS aircraft, a helicopter and fixed-wing, resumed the aerial search.