Wrangell St Elias National Park and Preserve to burn piles to reduce fire risk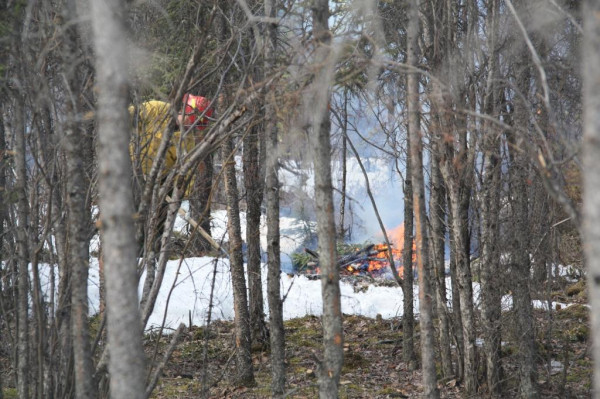 News Release Date:
September 27, 2012
Copper Center, Alaska -Wrangell-St. Elias National Park and Preserve wildland fire staff will burn piles of debris consisting of trees and brush from Oct. 1, 2012 - Oct. 6, 2012. The piles are located in the McCarthy and Kennicott vicinity. Fire staff will ignite piles in the morning and monitor them throughout the day. Smoke may be visible throughout the area.
The piles resulted from an interagency effort in 2011 to reduce thick vegetation on the Wrangell-St. Elias NP boundary to McCarthy. Fire staff worked hard to decrease vegetation in order to reduce the fire risk to McCarthy and increase public and firefighter safety during a wildfire. Burning the debris piles is the last step before completing this successful project. Visit https://www.nps.gov/wrst/parkmgmt/firemanagement.htm for more information about the park's wildland fire management program.
Have you planned your fall Firewise project? Reduce the fire risk to your home now not next spring or summer when the risk is greater. Fall is a great time to limb and thin trees on your property and clean up any other fuel sources around your home. Rather than burning your slash, build piles and cover them until winter. Ignite them when snow is on the ground and use safe burning practices. Learn how fire staff reduce the fire risk to NPS structures and how you can do it too https://www.nps.gov/akso/nature/fire/firefuels.cfm.
For additional information, contact Wrangell-St. Elias Public Affairs at (907) 822-7223 or visit https://www.nps.gov/wrst/index.htm .
Last updated: April 14, 2015