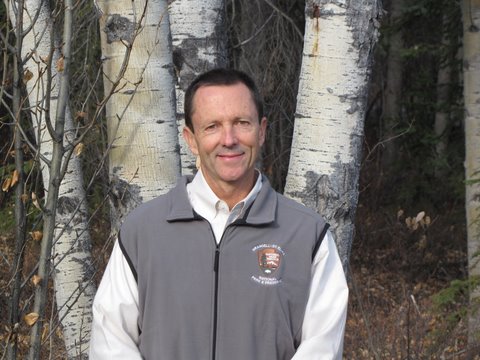 News Release Date:
September 29, 2011
Dear Wrangell-St Elias friends, neighbors, and partners:
I'm pleased to introduce to you Rick Obernesser, the new Wrangell-St. Elias National Park and Preserve Superintendent. The opportunity to lead the nation's largest national park attracted many candidates from across the country. I interviewed a variety of qualified candidates and chose Rick because he is one of the National Park Service's best. Wrangell-St. Elias National Park and Preserve and the communities that work with the park deserve the best.
Rick's career spans 30 years with the National Park Service, during which he gained a breadth of experience ranging from a dedicated park ranger in the field to a highly effective leader at the national level. As a park ranger at Great Smoky Mountains National Park, Rick responded to incidents and provided emergency care to visitors and communities. While at Yosemite National Park he patrolled the backcountry on horseback and at Cape Cod National Seashore, he forged trusted relationships with residents living on private property within the park.He is no stranger to remote, cold, and harsh environments and the resilience that lifestyle requires; he worked in Yellowstone National Park for ten years. As an incident commander on the 2010 Gulf oil spill disaster, he oversaw oil clean-up efforts under trying and tiring circumstances. Throughout his career, Rick has demonstrated stellar leadership skills and a keen ability to listen to people's concerns and perspectives, and work directly with them to address issues and solve problems.NPS has worked to build effective relationships with those of you who live, work and subsist near and within Wrangell-St. Elias National Park and Preserve; my goal is to see that path of mutual respect continue to grow.I trust that Rick's deep experiences and well-developed abilities will advance that common purpose.
I also chose Rick because he is passionate about the National Park Service mission but is not rigid and inflexible in its interpretation. He's creative, an innovator. He does not shy away from tough questions or issues. He investigates the breadth of possibilities rather than fixating on one solution. He has a straightforward, yet low-key style that I believe will work well with park neighbors and partners.
Rick plans to get settled in the Glennallen area in early December. He plans to host a community gathering at park headquarters early in the New Year, and will be looking for opportunities to meet many of you once he arrives.Until that time, the park is also planning to use its Facebook page to invite you to ask Rick questions and get to know him better. Stay tuned, more information will be forthcoming on the park's website at https://www.nps.gov/wrst/index.htm. You can find Wrangells on Facebook at https://www.facebook.com/WrangellSt.EliasNPP. Or follow the park on Twitter at https://twitter.com/#!/WrangellStENPS.
Please join us in welcoming him to Alaska and the Copper River Valley community.
Sincerely,
Sue E. Masica
Regional Director