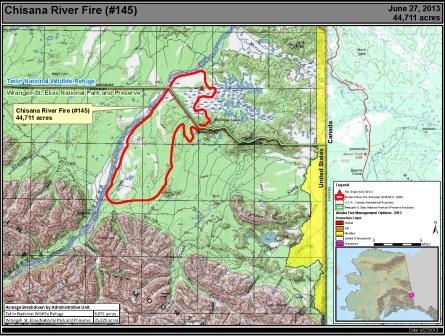 News Release Date:
June 27, 2013
Tok, Alaska –– Fire managers are continuing to monitor the Chisana River Fire with surveillance flights to size up the acreage and observe fire behavior.The fire, burning in Wrangell-St. Elias National Park and the Tetlin National Wildlife Refuge, has grown to 44,531 acres.The growth in acreage was on the south side of the fire, along the eastern edge of the Chisana River, with minimal growth to the north and east.
Currently, no resources are threatened by the fire.However, fire managers have developed contingency plans and are prepared to take action if resources are threatened. The fire is approximately 13 miles west of the Canadian border, 18 miles west of Beaver Creek, Yukon, Canada and
The Alaska Division of Forestry has assembled a combined Alaska/Canada organization of fire managers, based in Beaver Creek, for better proximity to the fire.
The fire has sent a smoky haze over portions of the Copper River Valley and along the Alaska Highway. If smoke impacts the Alaska Highway, motorists are asked to use caution, slow down, and drive with their headlights on.Updated information on travel conditions can be found at http://511.alaska.gov and www.511yukon.ca
Wildland fire smoke information is available at http://www.dec.state.ak.us/air/smokemain.htm.
A Fuels and Fire Behavior Advisory remains in effect for most of Alaska.Read more at: http://fire.ak.blm.gov/content/weather/outlooks/FFBehavior.pdf.
Photos and maps of the Chisana River Fire are available at http://inciweb.org/incident/3440/.
Information is also available at
https://www.nps.gov/wrst/parkmgmt/currentfireinfo.htm