News Release
Kennecott Concentration Mill Building Renovations Completed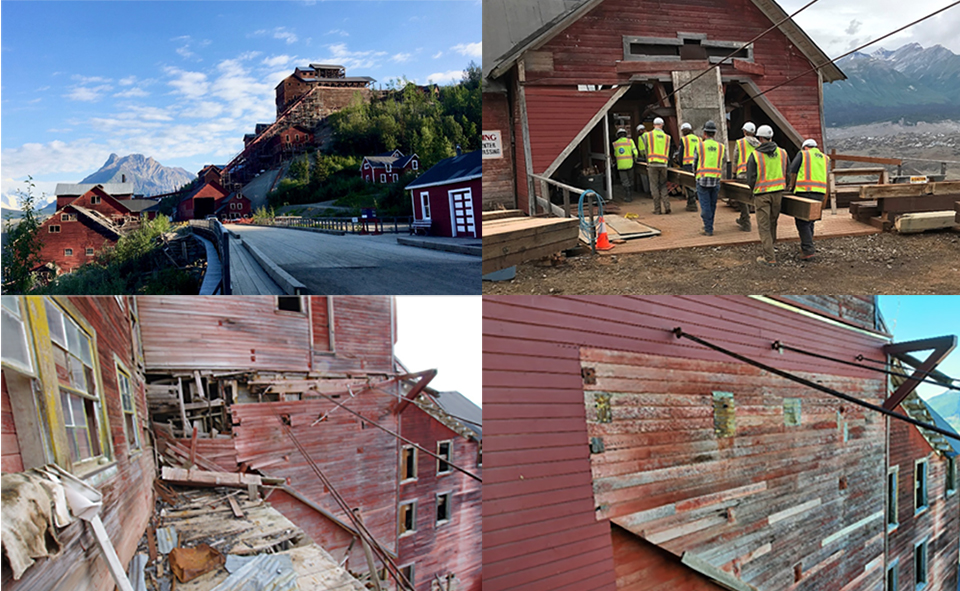 News Release Date:
September 7, 2021
Contact: Carrie Wittmer, 907-822-7255
Copper Center, AK – Phase III renovations to the historic 14-story Kennecott Concentration Mill building in the Kennecott Mines National Historic Landmark (NHL) in Wrangell-St. Elias National Park and Preserve were completed this summer. 
The $5.7 million dollar project stabilized levels 7-11 of the Mill building and followed two previous projects that stabilized levels 1 through 6 and installed a fire detection and notification system. The project mainly replaced heavy timber elements; 141,200 pounds of lumber were utilized in the stabilization effort. The largest timber elements were up to 850 pounds and 34 feet long. Because the site and structure were not accessible to heavy construction equipment, the heavy timber elements were moved around and through the building via manpower, winches, and chain falls. Skilled local carpenters hand notched and fitted each piece. Additional challenges in accomplishing the work included blasting caps discovered on the north slope elevation of the Mill Building and the presence of hazardous materials, including heavy metals.
Construction of the Mill building originally began in 1909; copper ore was crushed and concentrated in this building until the mines closed in 1938. Between 1911 and 1938, nearly $200 million worth of copper was processed at the Mill. At the peak of operation, approximately 300 people worked in the mill town and 200-300 in the mines. 
Kennecott Mines NHL is located at the end of a remote, unpaved, dead-end road in the heart of the largest National Park, Wrangell-St. Elias National Park and Preserve. The historic mill town is considered the best remaining example of early 20
th
Century copper mining and was listed on the National Register of Historic Places in 1978 and designated as a National Historic Landmark in 1986. National Park Service interpretive exhibits and historic buildings are open to the public Memorial Day through Labor Day, 9:00am – 5:00pm. Visit the park's
website
for trip planning information.
Last updated: September 7, 2021