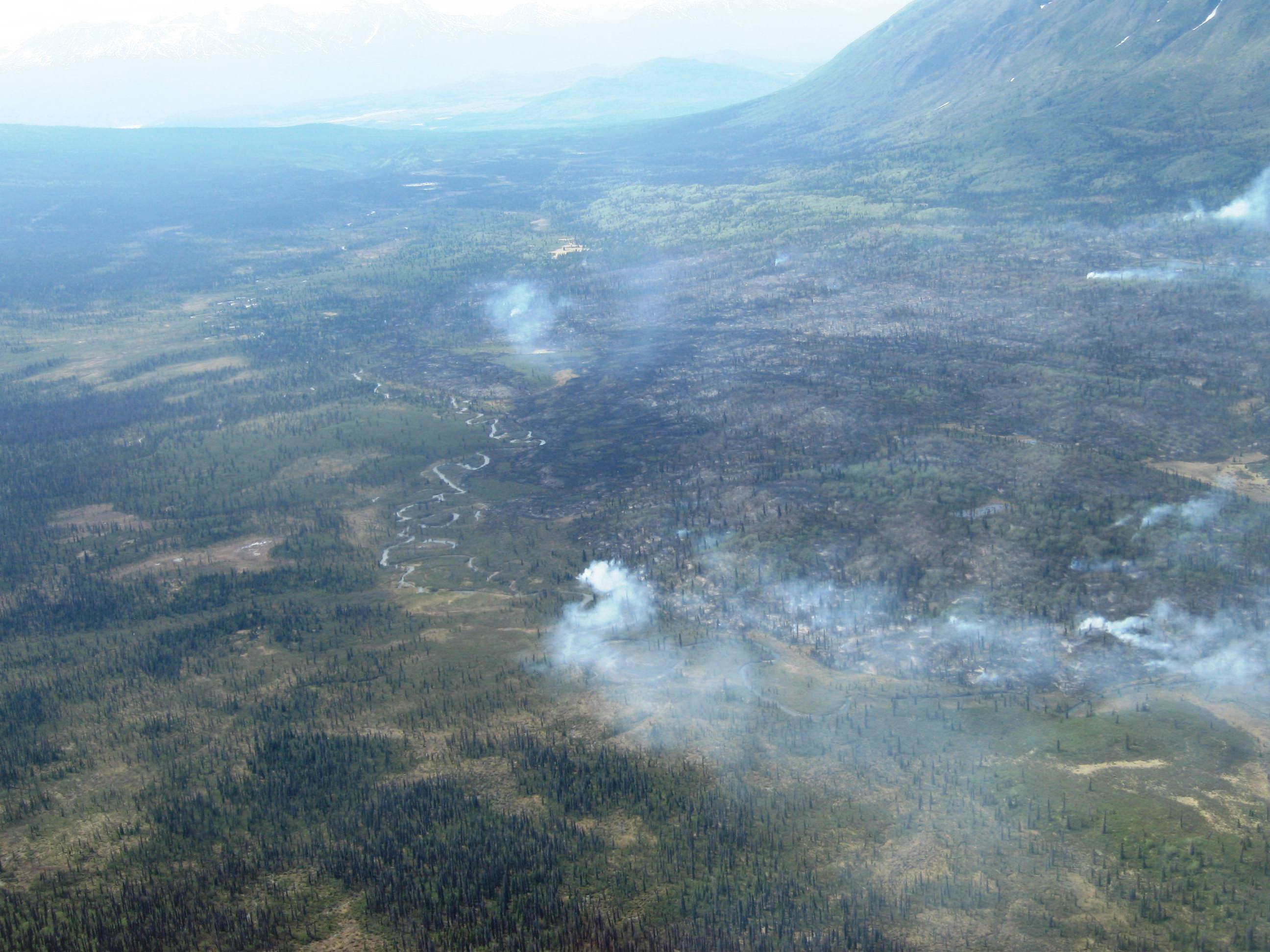 News Release Date:
June 4, 2011
Copper Center, Alaska – Gusty winds hit the Copper River Basin on Friday, but the strongest gusts on the Gilahina Fire were measured at 8 miles per hour.The cooler, humid weather continued to restrict fire growth.The Gannett Glacier and Noorvik Type 2 crews worked to extinguish residual heat along the southwest edge of the fire.Firefighters have concentrated on cooling this part of the fire to reduce the likelihood of the fire spreading further down the Gilahina River drainage in the Full Fire Management area.The fire is over 6 miles from the Gilahina Trestle and about 5 miles north of the McCarthy Road.
Most of the fire is burning in the Limited Fire Management area in the Wrangell – St. Elias National Park and Preserve.The fire remains on the north side of the Gilahina River in a wilderness area.The State of Alaska Division of Forestry and National Park Service are managing this fire cooperatively.
The Gannett Glacier Type 2 initial attack crew will be released from the Gilahina Fire today.They will be relocated to assist with firefighting efforts on the East Volkmar Fire, east of Delta Junction.The Noorvik crew will continue to work on the Gilahina Fire, monitoring the fire activity and extinguishing residual heat on the southwest edge.A 10-person Fire Use Module will be arriving this weekend to work with the Noorvik crew. The Fire Use Module will also do more site protection and long-range planning for the fire.
One Remote Access Weather Stations (RAWS) has been set up on the Gilahina Fire in a burned area.This RAWS station will provide current data about weather conditions on the fire. Another RAWS will be placed in the Lakina River drainage to monitor conditions there.The winds and other weather conditions can vary widely in these drainages due to the broken terrain.
The drift smoke in the Copper River Basin is coming from fires further north in Alaska and possibly from fires in Canada.Today's weather forecast calls for continued cool and moist weather.
The McCarthy Road is open and there are no driving restrictions.For those who fly in the vicinity, be aware of fire related helicopter and fixed-wing traffic and the possibility of sudden decreased visibility. The local victor frequency is 122.9.
For additional information, visit https://www.nps.gov/wrst/parkmgmt/currentfireinfo.htm or http://www.inciweb.org, or contact Wrangell –St. Elias Information Officer Mark Keogh at 907-822-7223.For statewide wildfire information, go to:http://fire.ak.blm.gov/or call 907-356-5511.