Four lightning caused wildfires in northeastern Wrangell St Elias NP, two active, one quiet, one out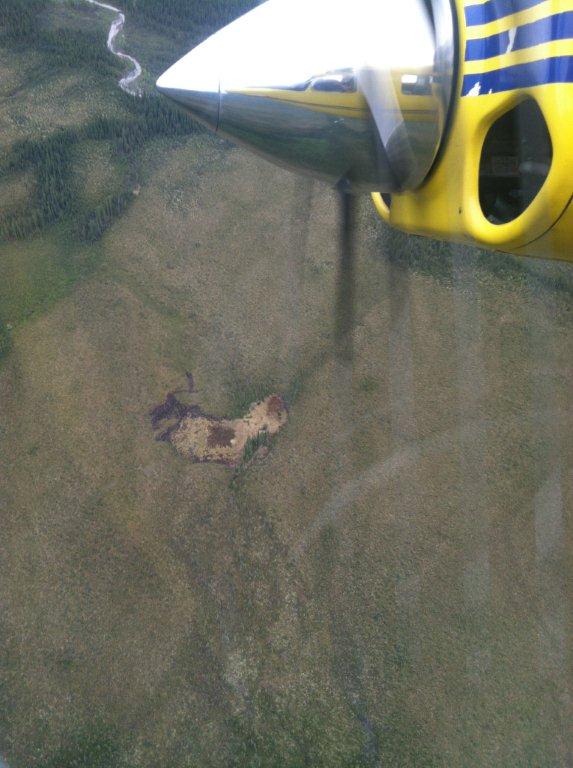 News Release Date:
June 13, 2013
Copper Center, Alaska – A new wildfire was spotted by State of Alaska Division of Forestry (DOF) fire staff June 11 in northeastern Wrangell-St. Elias NP. The Bruin Creek fire is 73 miles southeast of Slana, 22 miles northeast of Chisana, 28 miles west of Beaver Creek, Canada and 16 miles southwest of the Chisana River Fire. At 2 acres, the fire was inactive except for a few smokes. Wrangell-St. Elias NP and DOF fire staff will monitor the fire closely.
Two park cabins are nearly 3 miles southeast of the Bruin Creek Fire. Today six interagency fire staff will remove brush around the cabins to make them defensible should the fire activity increase and advance toward the structures. Staff will also set up sprinkler kits in order to wet down the structures and reduce the fire risk. Temperatures in the area are expected to stay warm and dry.
The Chisana River Fire located 82 miles east of Slana, 37 miles northeast of Chisana and 19 miles northwest of Beaver Creek, Canada is 3175 acres. The majority of the fire burns in the Tetlin National Wildlife Refuge. Twenty-nine acres are in northeastern Wrangell-St. Elias National Park. The U.S. Fish and Wildlife Service, Wrangell-St. Elias NP and DOF fire staff will continue to monitor the fire, documenting fire behavior and growth. Staff are allowing the fire to take its natural course for the health of the boreal forest. Interagency fire managers will take action if structures, natural or cultural resources are threatened.
A quiet Edge Creek Fire was reported June 12. Less than ¼ acre, the fire is located just north of the Bruin Creek Fire and will be monitored by Wrangell-St. Elias and DOF fire staff.
When detected June 5, the 1 acre Tractor Trail Fire was out. Located south of the Bruin Creek Fire, it likely was ignited by lightning, burned for a short period of time and then rain extinguished it.
Naturally-caused wildfires have on occasion burned in the northeastern portion of Wrangell-St. Elias. Visit https://www.nps.gov/wrst/parkmgmt/loader.cfm?csModule=security/getfile&pageID=385664 to see a map of the park's wildfire history.
Visit https://www.nps.gov/wrst/parkmgmt/currentfireinfo.htm for current fire information.
For additional information please contact Mark Keogh at 907-822-7223.
Last updated: April 14, 2015