Animals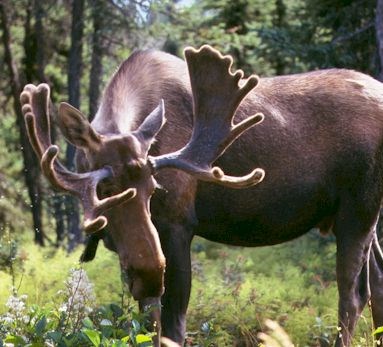 Did You Know?
Ten million swans, geese, and ducks nest in Alaska each year. That's ten times the population of people in Montana!
Only female mosquitoes bite. They use blood for egg production.
Iceworms really do exist! A small segmented black worm, less than an inch long, the iceworm lives in temperatures just below freezing. They can be found in the ice on the surface of glaciers (look like black threads).
In Alaska, caribou outnumber people. There are about 616,000 people in Alaska and 900,000 caribou.
Alaska has no native rabbits, but wild populations do exist. There are native Snowshoe hare. A rabbit is born without hair; hares are born with hair as an adaptation to the cold climate.
Elusive Wildlife
People often ask, "Where is the wildlife in Wrangell-St. Elias?" The answer is - wildlife is everywhere - you just need to know where to look for signs of it! Go to our Wildlife Viewing page to find out tips on how to spot wildlife.
Animals in Alaska
You can find a lot of information about animals in Alaska on these Alaska Department of Fish and Game webpages:
Alaska Wildlife Notebook Series

Sounds Wild - educational radio programs


Last updated: March 16, 2020