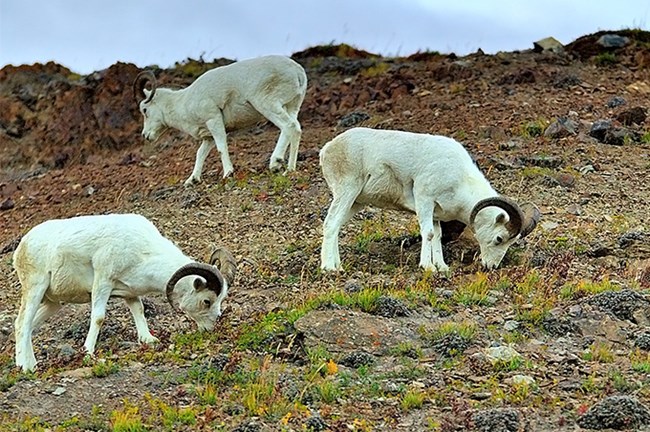 Wrangell-St. Elias is home to many species of mammals, and contains one of the largest concentrations of Dall sheep in North America — some 13,000 sheep in excellent habitat. Look for them along rocky ridges and mountainsides. Moose are often seen near willow bogs and lakes. Other species of large mammals include mountain goats, caribou, wolves, and two herds of transplanted bison.
Black bears and brown bears (grizzlies) are found throughout the park and preserve. Grizzlies are yellowish-brown to black and some have white-tipped hairs, giving them a grizzled appearance. The bears' height at the shoulders ranges from about 4.5 feet to six or seven feet, and they weigh between 300 and 1,500 pounds. When standing they may measure up to nine feet tall. They have a large hump of muscle above their shoulders which helps them dig up one of their favorite foods...ground squirrels. Other foods vary by the season and include grasses, roots, berries, nuts, insects, salmon, rodents, and sometimes large mammals (moose, caribou, Dall sheep).
Brown bears can conceal themselves remarkably well in the low brush along hill sides. Bears are actively hunted throughout Alaska and tend to be shy around people, but they will aggressively defend their young or their food if surprised or approached too closely. They have an excellent sense of smell, good hearing, and are extremely powerful. They are naturally curious, and caution should be taken when in their presence. Before heading into the backcountry, know how to be "bear aware."
Small mammals found in the park and preserve include lynx, wolverine, beaver, marten, porcupine, fox, coyotes, marmots, river otters, ground squirrels, pikas, and voles.
The coastal areas of the park are habitat for marine mammals, including sea lions, harbor seals, sea otters, porpoises, and whales.