Birds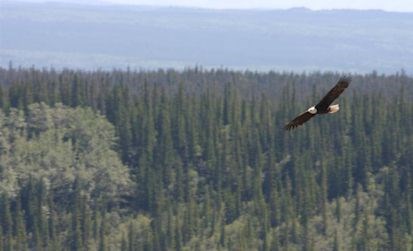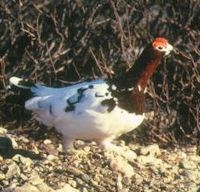 With over 20,000 square miles of boreal spruce forest, muskegs, lakes, rivers, ocean shorelines, alder and willow thickets, alpine meadows, icefields, and glacial barrens, Wrangell-St. Elias provides rich habitat for many birds.
Long summer days, wide open spaces, and abundant food lure long-distance migrants through the Copper River Valley and along the rugged coastline each spring. Many stay to nest. Trumpeter swans, Canada geese, and a myriad of other waterfowl and shorebirds begin arriving in late April even before the snow melts. By early May, park forests are alive with birdsong as warblers and thrushes arrive and quickly establish nesting territories and find mates. By August, many birds are already beginning their long return to southern wintering grounds.
Common birds of the park's vast interior include willow and rock ptarmigan; spruce grouse; great horned, boreal, and northern hawk owls; woodpeckers such as the northern flicker and hairy woodpecker; gray jay; common raven; black billed magpie; hermit thrush; American robin; ruby crowned kinglet; yellow rumped and Wilson's warblers; white crowned sparrow and dark eyed junco.
As days shorten and the frigid winter of the Alaskan interior arrives, only the hardiest 34 species remain. Foraging chickadees, redpolls, and pine grosbeaks can be heard on all but the coldest of days.
The coastal areas of Wrangell-St. Elias contain a variety of additional species, including: Kittlitz's, ancient and marbled murrelets; harlequin ducks; black and white-winged scoters; arctic, common, and Caspian terns; parasitic and Pomarine jaegers; numerous gulls; black and pigeon guillemots; black oystercatchers. Icy Bay and the Malaspina Forelands contains an important population of Kittlitz's murrelets, a declining species that has been petitioned for listing under the Endangered Species Act.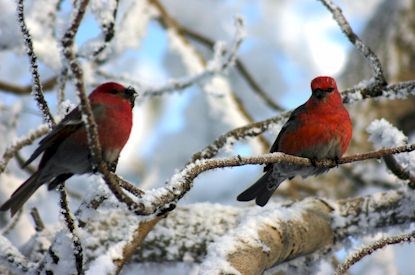 Ways to Learn More and How to Get Involved
Check out the Wrangell-St. Elias Bird Checklist at NPSpecies.
If you see a bird in the park that is not on our bird checklist, we'd like to know! Download a Wrangell-St. Elias Rare Bird Report Form (pdf format, 88 KB) and send it to us with as much information as you can include. If you have a picture to send with the report form, that is even better.
Birds in and around Wrangell-St. Elias National Park have been surveyed as part of the North American Breeding Bird Surveys. Survey routes at Kenny Lake (near Chitina) show 93 species of birds ranging from Rufous Hummingbirds to Sandhill Cranes.
All About Birds: Visit The Cornell Lab of Ornithology to learn all about birds of North America!
Christmas Bird Count
From December 14 through January 5 each year, tens of thousands of volunteers throughout the Americas take part in an adventure that has become a family tradition among generations. Families and students, birders and scientists, armed with binoculars, bird guides and checklists go out on an annual mission: the Christmas Bird Count. This is the longest running Citizen Science survey in the world. The Christmas Bird Count provides critical data on population trends.
Wrangell-St. Elias National Park and Preserve celebrated its 1st Annual Christmas Bird Count in 2011. Bird lovers from the local communities arrived at the park's visitor center to get outside, enjoy the winter's beauty, and track and count as many birds as they could. Armed with binoculars, bird guides, checklists, and an assigned count area they enjoyed a beautiful yet very cold December day. Thanks to everyone's participation it was a great success and a lot of fun. Fourteen observers spent 21.5 hours and covered 68 miles and saw 9 bird species totaling 325 birds throughout the day. The species that were observed were Pine Grosbeaks, Common Redpolls, Common Ravens, Black-Capped Chickadees, Black-billed Magpies, Boreal Chickadees, Gray Jays, White-Winged Crossbills, and Hairy Woodpeckers.
There were two feeder observers who spent additional hours watching their feeders. Four species were seen during the count week that were not observed on count day. They included the Hoary Redpoll, White-Crowned Sparrow, Red-Breasted Nuthatch and Downy Woodpecker.
Find out more information about the Christmas Bird Count at the National Audubon Society.


Last updated: April 3, 2023