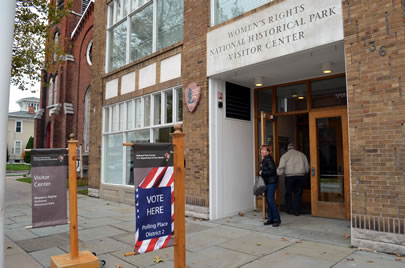 News Release Date:
November 7, 2012
Contact: Jamie Wolfe, 315.568.0024
Seneca Falls, NY - On Tuesday, November 6th, Women's Rights National Historical Park served as a polling station for the voters of District 2 in Seneca Falls, New York. As of 4 p.m., over 400 people had exercised their right to vote at the park's visitor center.
The visitor center was open from 6 a.m. to 9 p.m., allowing voters and visitors extended access to the story of the nation's First Women's Rights Convention and the movement for citizenship rights for women.
 "It is a deep privilege to provide a centrally located and convenient site for Seneca Falls' residents to exercise one of the fundamental rights of citizenship, a right that was demanded right here 164 years ago," said Superintendent Tammy Duchesne. "I can think of nothing more appropriate, relevant, or inspiring." 

The partnership between the park and Seneca Falls election commission was formed in the winter of 2011 when the park reached out and offered to be a polling station. While the Wesleyan Chapel did not meet the requirements, the park's visitor center did. Throughout the day, rangers welcomed visitors and voters at the visitor center, screened the park's video, interpreted the statues that are in the lobby, and also offered tours of the home of famed suffragist Elizabeth Cady Stanton and the newly rehabilitated Wesleyan Chapel, the birthplace of the women's suffrage movement. This is the third election where polling has occurred in the park.
On Thursday, July 19, 1848, a few steps away from the location of yesterday's voting, citizens gathered in the Wesleyan Chapel at the nation's First Women's Rights Convention to insist that women have "all the rights and privileges which belong to them as citizens of these United States." Their first demand - "the inalienable right to the elective franchise." 
With the 19th Amendment to the U.S. Constitution, suffragists realized the hard-fought struggle to secure women the right to vote throughout the nation in 1920. Women's Rights National Historical Park interprets this pivotal event in America's history and is honored to allow the community to uphold and exercise the rights that were first demanded here.
For more information, please call 315-568-0024. You can also follow the park's social media sites for Facebook at https://www.facebook.com/womensrightsnps and Twitter at https://twitter.com/#!/WomensRightsNPS.