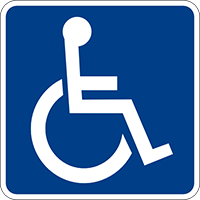 Park Entrance Areas
View and print a
map
of the park area.
William Howard Taft Education Center:
Parking: Two spaces available in front parking lot, 2 parking spaces available in rear lot.
Entrance: Front doors to education center open outwards, manually operated.
Trails: Paved and pebble-covered from parking lot areas leading to education center and house, gradual incline towards buildings. Curb ramp accessibility to the Education Center, up front on Auburn Ave.
Restrooms: Men's and Women's both wheelchair accessible with wall-mounted baby changing stations in both.
Water: Water fountain located inside Education Center near restrooms.
Picnic tables provided around Taft House and near rear parking lot.
No pay phones
Benches : Provided around the outside of education center building.
Exhibits: Artifacts on display in glass cases, visually and physically available from a wheelchair.
Assistive listening devices available.
William Howard Taft House:
Parking: Two spaces available in front parking lot area in front of Education Center and two parking spaces in rear lot.
Trails: Paved and pebble-covered from parking lot areas, flat surface, gradual incline towards buildings.
Accessibility entrance: basement door on north side of house.
Elevator: on basement floor in house (north side of house).
Exhibits: Artifacts on display in glass cases, visually and physically available from a wheelchair.
Restrooms: basement restroom is wheelchair accessible.
Water: water fountain in basement near elevator.
Picnic tables: available around Taft House and rear parking lot.
No pay phones