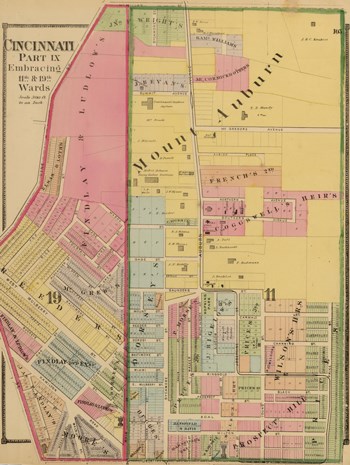 Cincinnati's "Fifth Avenue"
As you walk down Auburn Avenue imagine yourself back in the 19
th
Century. Horse drawn carriages traveling down cobblestone streets, ornate gaslights illuminating the brick paved sidewalks, and stately towered mansions rising atop one of Cincinnati's most fashionable hills. In those early years Auburn Avenue was nicknamed Cincinnati's "Fifth Avenue" – rival of New York's famous thoroughfare, and the street and the surrounding side streets boasted some of the most notable people in the country as its inhabitants.
President and Supreme Court Justice William Howard Taft lived here as well as General E.F. Noyes, governor of Ohio and Ambassador to France. Others have included general Jacob D. Cox, Republican governor Ohio, congressman, and president of the university of Cincinnati; Mathew Addy, a Canadian who founded the iron and foundry works in the town that still bears his name: Addyston; Alexander McGuffey, co-author with his brother, William, of the famous McGuffey's Readers; hymn writer and inventor William Doane; Conductor Leopold Stokowski; and numerous industrialists, philanthropists, and jurists.