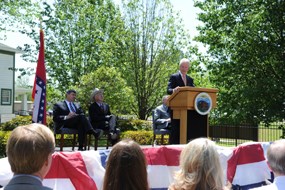 On April 16, 2011, former President Clinton, together with Secretary of the Interior Ken Salazar, National Park Service Director Jon Jarvis and Congressman Mike Ross,formally dedicated the new President William Jefferson Clinton Birthplace Home National Historic Site in Hope, Arkansas. Other program participants included, the Hope High School JazzCats, under the direction of Kevin Dunn, who performed before the ceremony and students from the Hope High School ROTC and William Jefferson Clinton Primary School in Hope who presented the colors and lead the audience in the Pledge of Allegiance.


"We are very proud to include this important historical birthplace home within the National Park System and to interpret the story of President Clinton's early, small-town life for the American public," Secretary Salazar said. "President Clinton spent his first formative years in Hope and credits his family and the community with helping to shape his understanding of the world and influencing his development into the international statesman that he has become."

On May 19, 1994, the site was added to the National Register of Historic Places, and on March 30, 2009, President Obama signed into law the Omnibus Public Land Management Act of 2009, which provided the authority to establish the national historic site. "We visit these places not because great events happened there, but because everyday events happened there," said Clinton in a 1999 speech at the home. "We make them into landmarks because they remind us that America's greatness can be found not only in its large centers of wealth and culture and power, but also in its small towns, where children learn from their families and neighbors the rhythms and rituals of daily life. They learn about home and work, about love and loss, about success and failure, about endurance and the power and dignity of their dreams."
President William Jefferson Clinton Birthplace Home National Historic Site is the 394th unit of the National Park Service.