Safety
In the Cave
Planning to tour the cave? Please read and follow these steps for cave tour safety.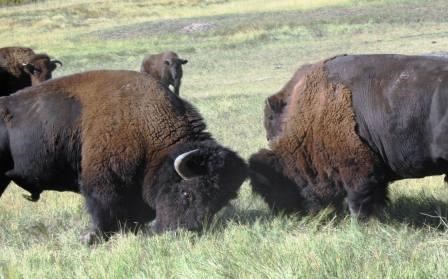 Encountering Wildlife
Animals in the park are wild and unpredictable. Do not feed the wildlife. Fed animals may become dependent on handouts and fail to survive the winter. They also become attracted to highways where they can be struck by passing vehicles.
Use caution when encountering all wildlife and bison in particular. Bison are amazingly fast and quick! They can run 35 mph, weigh up to a ton, and have horns! Stay a safe distance from all wildlife and at least 100 yards from a bison. Pets are welcome at Wind Cave National Park but with some limitations.
Pets are permitted in the visitor center area and campground, as well as the Elk Mountain and Prairie Vista Nature Trails. Pets are not permitted in the backcountry, including areas near roadways and all other trails, to protect your pet and park wildlife. Pets may not be left unattended and must be on a leash at all times. Be aware that ticks are common in high grass and may affect you, your pet, or both.
Park Roads
No matter the season, exercise caution and expect wildlife on the roads. Obey all speed limits. They are strictly enforced to protect you and park wildlife.
Vehicles and bicycles must be on the roadways at all times. Off-road driving or bicycle riding is prohibited.
During winter icy roads, poor visibility, and changing wildlife patterns create hazardous driving conditions throughout the park. Bison often crowd along highways and are extremely difficult to see at night. Accidents involving bison or other large wildlife have the potential to cause serious injuries to drivers and their passengers.


Last updated: December 22, 2017