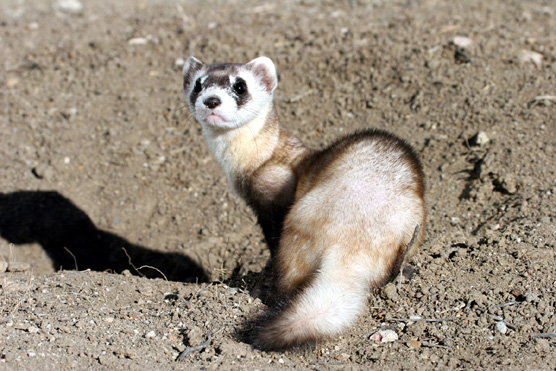 News Release Date:
November 16, 2006
Contact: Tom Farrell, 605-745-4600
WIND CAVE NATIONAL PARK, S.D. – Wind Cave National Park will host an informal open house to discuss the park's Draft Black-footed Ferret Management Plan and Environmental Assessment on Tuesday, November 28. Park staff will be available from 4 p.m. to 7 p.m. at the Wind Cave National Park Visitor Center to provide information and receive written comments.
Comments are being solicited on a draft environmental assessment (EA) and plan to reintroduce and manage a black-footed ferret population within the park. The draft plan proposes to reintroduce approximately 20 to 25 black-footed ferrets annually for the next three to five years under a "nonessential experimental" designation or similar mechanism. The comment period runs through December 22.
For more information, and for an on-line copy of the EA, visit https://parkplanning.nps.gov/wica. Comments can be submitted via that website or they can be mailed to Superintendent; Wind Cave National Park; 26611 U.S. Highway 385; Hot Springs, SD 57747-9430. Printed copies of the EA are available for review at the Custer, Hot Springs, and Rapid City libraries and at the park visitor center.