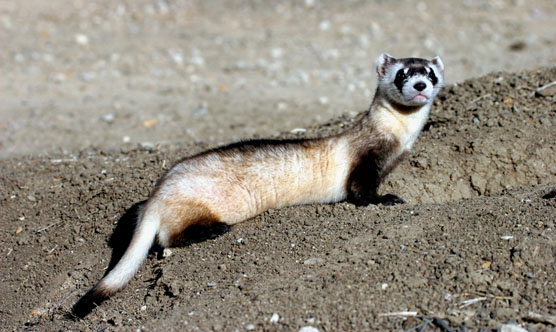 News Release Date:
November 6, 2006
Contact: Tom Farrell, 605-745-4600
WIND CAVE NATIONAL PARK, S.D. – Wind Cave National Park is soliciting comments on a draft environmental assessment (EA) written for the reintroduction of the endangered Black-footed ferret. The park is proposing to reintroduce approximately 20 to 25 black-footed ferrets annually for the next three to five years under a "nonessential experimental" designation or similar mechanism.
"Black-footed ferrets are one of the rarest animals in North America, and the survival of this species is still very much in doubt due to the lack of habitat and the existence of plague at existing reintroduction sites," said Superintendent Linda L. Stoll. "This reintroduction effort would provide a plague-free location for ferrets while helping with the management of the park's prairie dog population."
The reintroduction of ferrets to the park would not affect the ability of any private or public landowner outside the park to implement lawful land use activities, including prairie dog control actions. Management actions used to reintroduce ferrets and manage the prairie dog population would be consistent with the park's recently completed prairie dog management plan that limits prairie dog to 3,000 acres within the park.
The public is invited to attend an informal open house at the Wind Cave Visitor Center on Tuesday, November 28, from 4 p.m. to 7 p.m. to discuss the plan with park staff and to comment on the alternatives.
For more information, and for an on-line copy of the EA, visit https://parkplanning.nps.gov/wica. Comments can be submitted via that website or they can be mailed to Superintendent; Wind Cave National Park; 26611 U.S. Highway 385; Hot Springs, SD 57747-9430. Printed copies of the EA are available for review at the Custer, Hot Springs, and Rapid City libraries and at the park visitor center. The comment period runs through December 22, 2006.