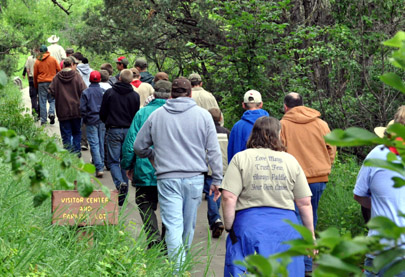 News Release Date:
July 13, 2011
Contact: Tom Farrell , 605-745-4600
WIND CAVE NATIONAL PARK, S.D. - A rainy Tuesday in mid-July contributed to rangers taking the most people through Wind Cave in a single day since August 10, 1976. Fifteen extra tours were put in to handle the heavy traffic on July 12. Besides the weather, another factor was the temporary closure of the Scenic Cave Tour at nearby Jewel Cave National Monument due to elevator problems.
"Tuesdays and rainy days are always our busiest days and when they both happen in July, we know we're going to be busy," said park superintendent Vidal Davila. "Our staff knew, as soon the clouds and cooler weather moved in, we would have a big day. We just didn't know how big."
The park normally schedules 30 cave tours a day in the summer time. With all the extra tours that were put in to handle the heavy visitor traffic, the park gave a total of 45 tours Tuesday. 
"We couldn't have done this without the cooperation of the interpretive staff at Jewel Cave," Davila added. "They have been sending rangers over to help lead tours here while work continues on fixing their elevators. Hundreds of people were able to see the cave yesterday because of their help." 
Year-to-date visitation figures show a drop of around 4% over last year, which was the park's busiest year since 1977.
Tours begin at 8:40 a.m. at Wind Cave and the last tour is at 6 p.m. Visitors are reminded to come early, bring a light coat or sweater, and wear good walking shoes. For more information, visit the park's website at www.nps.gov/wica.