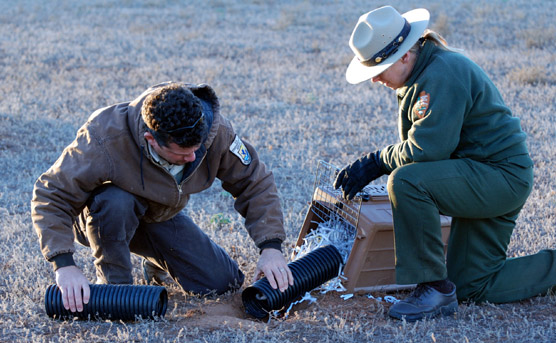 News Release Date:
November 5, 2010
Contact: Tom Farrell, 605-745-1130
Wind Cave National Park, S.D. - Twelve additional black-footed ferrets were recently released in Wind Cave National Park. The ferrets, seven males and five females, were bred in captivity at the National Black-Footed Ferret Conservation Center in northern Colorado.
The ferrets were initially planned for released at two other western locations. Outbreaks of sylvatic plague decimated those areas' prairie dog populations, the ferret's main food source, and Wind Cave was chosen as an alternative location.
"We are happy to work with the U.S. Fish and Wildlife Service to help preserve this rare animal," said park superintendent Vidal Davila. "These animals will be a welcome addition to the park's established ferret population."
The park's black-footed ferret population was estimated to be around 35 - 40 animals prior to this release. Considered one of the rarest land mammals in North America, these animals, members of the weasel family, typically only live two to three years in the wild. Forty-nine animals were reintroduced in the park in 2007.