Giving Back to Get Ahead at Wind Cave National Park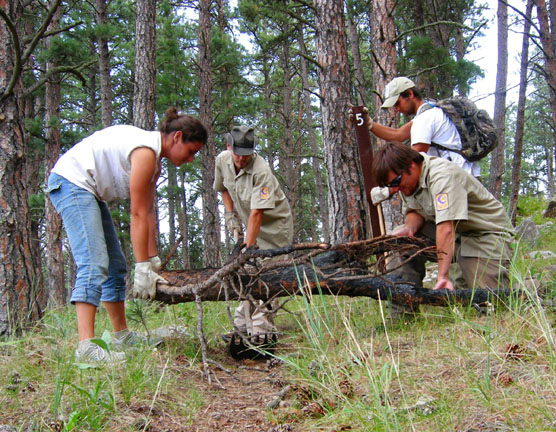 News Release Date:
August 10, 2007
Contact: Tom Farrell, 605-745-4600
WIND CAVE NATIONAL PARK, S.D. – Four summer interns at Wind Cave National Park are giving back to the park while exploring careers in conservation. Laura Wood, Tyler Scott, Matt Hornfeck and Matt Andrasi, interns with the Student Conservation Association (SCA), spent the summer maintaining the park's thirty miles of hiking trails and thinning ponderosa pine trees encroaching on the prairie.
"I wanted to work for the National Park Service as part of the preservation of an important ecosystem," said Matt Hornfeck, from Pittsburgh, Pennsylvania. "This internship allowed me to help preserve a significant area while learning about possible careers with the National Park Service."
SCA interns learn conservation ethics through hands-on service. Sixty percent of interns go on to successful conservation careers.
"This is a great program that benefits both the park and the student," said Acting Superintendent Tom Farrell. "Many friends of mine got their start in the National Park Service while working as a SCA intern."
The Student Conservation Association is dedicated to encouraging a new generation of conservation leaders, advancing the land ethic, and helping conserve our nation's natural and cultural resources. The organization places nearly 3,000 high school, college, and graduate student members in the field each year, and they annually provide more than 1.5 million hours of conservation service in national parks, forests, and other public lands.
Visit www.theSCA.org for more information about these conservation internships.
Last updated: December 29, 2017