President's Fiscal Year 2008 Budget Proposal to Impact Park Operations at Jewel and Wind Caves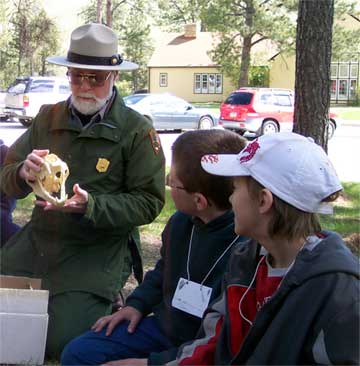 News Release Date:
February 8, 2007
Contact: Tom Farrell, 605-745-1130
Contact: Todd Suess, 605-673-2288 x1211
WIND CAVE NATIONAL PARK, S.D. – Both National Park Service caves in the Black Hills would see a modest increase in operational funding as a result of the President's $2.4 billion National Park Service budget for Fiscal Year 2008. The budget proposal calls for the largest ever increase in park operations funding and leverages public-private investments that could generate as much as $3 billion to help the parks prepare for their 100th birthday in 2016. 
The proposed budget includes 3,000 new seasonal employees, continues increases for park maintenance and targets specific cultural and natural resource improvements.
The FY2008 budget proposal is the first financial infusion for the President's "Centennial Initiative" in the years leading to the National Park Service Centennial. "This is money above and beyond our regular budget," National Park Service Director Mary Bomar said. "It includes $100 million of discretionary funds for parks each year and up to $200 million a year within the Centennial Initiative, which would provide $100 million a year to match donations for signature projects and programs."
The Centennial Initiative emphasizes three key goals:
·        Engage all Americans in preserving our heritage, history and natural resources though philanthropy and partnerships.
·        Reconnect people with their parks.
·        Build capacity for critical park operations and facilities, and sustain them through the next century.
The proposed budget provides a solid foundation for park base funding: With $140 million in increases at the park base level, this budget supports core mission responsibilities like interpretation and education programs, staff at visitor centers, park safety, and maintaining resources and facilities in good condition.
"This budget will have a tremendous impact regionally and at the park level," said Ernest Quintana, Regional Director of the National Park Service's 13-state Midwest Region. "All aspects of park operations, from maintenance to law enforcement, to providing our stories to our park visitors, stand to benefit from this increased funding."
The President's proposed budget would mean an increase in base operating funds of $84,000 at Jewel Cave National Monument and $280,000 at Wind Cave National Park. 
"These proposed funds would go a long ways toward improving not only our visitor services and resource protection, but also the upkeep of our facilities," said Wind Cave's Acting Superintendent Jim McMahill.
The FY2008 budget also includes $57.5 million to fully fund employee pay and benefits. "The full funding of these types of fixed costs alleviates the need to absorb portions of employee pay raises which have, historically, eroded park operations budgets." said Quintana. 
Last updated: April 10, 2015