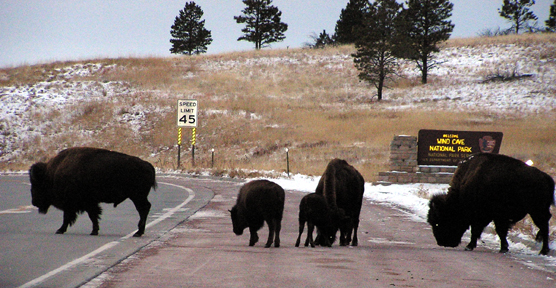 News Release Date:
December 11, 2008
Contact: Tom Farrell, 605-745-4600
WIND CAVE NATIONAL PARK, S.D. – Winter driving conditions, poor visibility, and high speeds are creating hazardous driving conditions at Wind Cave National Park. Adding to the deadly mix is the chance of encountering two-thousand pound bison lying or walking along the roadway.
"Encountering a bison at night on the road is like driving toward a black hole," said Vidal Davila, park superintendent. "If your headlights don't pick up their eye reflection, they are very difficult to see and nearly impossible to see in poor visibility."
During winter months, especially in snowy conditions, wildlife patterns change. It is not uncommon to find bison along highways licking salt used on roads outside the park and deposited inside the park by passing vehicles. Accidents involving large wildlife have the potential to cause serious injuries to drivers and their passengers. Studies show the best way to reduce these types of accidents is for drivers to slow down.
Davila added, "Each winter, rangers see an increase in accidents involving vehicles and wildlife caused primarily by people driving too fast on park roads. While we have not had any serious visitor injuries, in the last five years 47 large animals, primarily bison, were killed as a result of motor vehicle accidents. Sometimes even driving the posted speed limit is too fast for conditions and people need to slow down."
In early December, a pickup truck hauling hay hit and killed two bison at the park's south entrance on Highway 385. The driver was driving the speed limit but did not see the bison on the road in the dark.