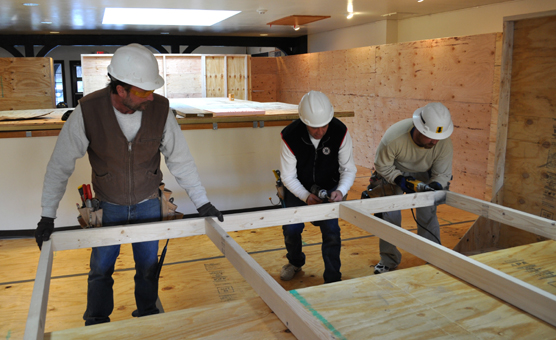 News Release Date:
November 19, 2009
Contact: Tom Farrell, 605-745-4600
WIND CAVE NATIONAL PARK, S.D. – The sounds of hammers and electric saws fill the air as a $1.4 million renovation project begins in the Wind Cave National Park Visitor Center.  The project will replace the building's heating, ventilation and air conditioning, telephone, and computer network systems, along with installing a fire sprinkler system. 
"We are using money collected from cave tour receipts to fund this project," said park superintendent Vidal Davila. "It will make heating and cooling the building more efficient and improve its fire protection by installing the building's first sprinkler system."
Work began in earnest last week and is expected to continue into May. Visitors to the building will discover a network of plywood tunnels in the lobby that will lead them to exhibits that remain open. The visitor center's bookstore, managed by the Black Hills Parks and Forest Association, will remain open throughout the construction project, although occasionally on a limited basis.
"The work will occur in phases, so the impact to visitors and employees will be kept to a minimum," Davila added. "We will continue to offer three cave tours of the Garden of Eden daily at 10 a.m., 1 p.m. and 3 p.m."
This park's Christmas open house, a fixture for many years, will be canceled due to the lack of space in the lobby. Among the project's many benefits will be a climate controlled environment for the park's museum collection which protects over 15,000 specimens and objects in the visitor center.