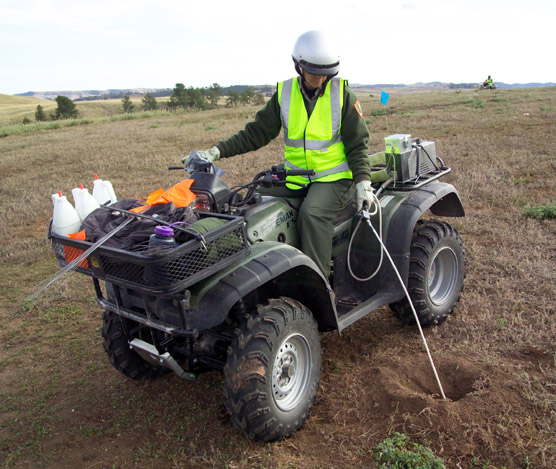 News Release Date:
November 13, 2008
Contact: Tom Farrell, 605-745-4600
WIND CAVE NATIONAL PARK, S.D. – In an effort to prevent a potential public health threat, and to preserve the dynamics of a mixed-grass prairie ecosystem, staff at Wind Cave National Park recently completed dusting 1,100 acres of prairie dog burrows in an attempt to prevent the introduction of sylvatic plague into the park.
"Crews on ATVs applied Deltamethrin into every prairie dog burrow in the Bison Flats and Norbeck prairie dog towns to kill fleas which could transmit this disease," said park superintendent Vidal Davila. "We were only able to complete this 10-week project with the help of the National Forest Service, U.S. Geological Survey, U.S. Fish and Wildlife Service, and staff from surrounding National Park Service units and support offices who provided people and equipment necessary for this undertaking."
Plague has been found within 25 miles of the park's boundary. Once an area is infected, outbreaks can occur anytime and require people entering a plague-infected area to take precautions such as using insect repellent and staying away from dead animals.
"With the potential to dramatically affect hikers and wildlife for decades, we are trying to prevent the introduction of plague into the park," said Davila. "Usually, the first sign of plague is a dead prairie dog town, and by then it is too late."
Plague primarily affects prairie dogs, which is a keystone species of a mixed-grass prairie ecosystem. Keystone species play pivotal roles in an ecosystem and support many other members of the community. This includes the endangered black-footed ferret, reintroduced into the park over the summer of 2007, and who is also very susceptible to plague.
Efforts to complete the task of dusting all the park's prairie dog towns will continue next year.