Air Quality Specialists Gather at Wind Cave National Park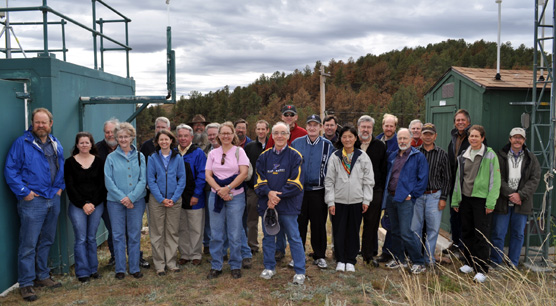 News Release Date:
September 24, 2009
Contact: Tom Farrell, 605-745-4600
Wind Cave National Park, S.D. – Air quality specialists from around the nation met recently at Wind Cave National Park as part of an annual meeting to share information about protecting visibility in Class I areas.
Participants belonged to the steering committee overseeing the IMPROVE (The Interagency Monitoring of Protected Visual Environments) network that is made up of representatives from Federal and regional-state organizations. This monitoring program was established in 1985 to help federal and state agencies protect visibility in Class I areas.
"We chose Wind Cave National Park as the meeting site because it has an IMPROVE air quality monitoring site," said Marc Pitchford, meteorologist with the National Oceanic and Atmospheric Administration (NOAA). "The IMPROVE program was responsible for implementing an extensive long-term monitoring program to prevent visibility impairment in 156 National Parks and Wilderness Areas as required by the 1977 Clean Air Act."
Wind Cave National Park has measured air quality since 1979 and is considered a key site for the collection of baseline air quality data for western South Dakota. In partnership with the State of South Dakota, instruments at the park monitor for nitrates, sulfates, and ozone. These are primary causes of acid rain and visibility impairments such as regional haze.
"It was an honor to host this meeting and learn about all the work that is being done in other areas," said park superintendent Vidal Davila. "The monitoring the park is doing helps insure the scenic vistas that abound in western South Dakota remain unimpaired."
Last updated: December 29, 2017