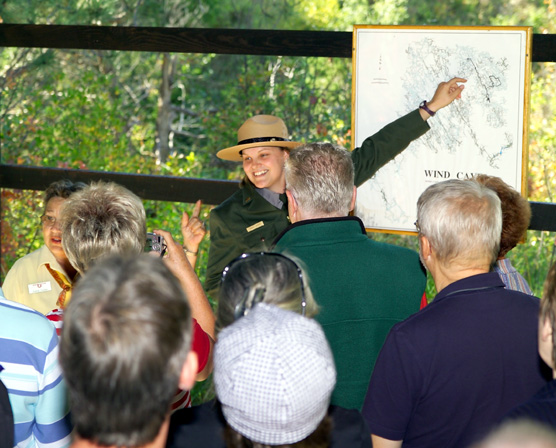 News Release Date:
September 19, 2008
Contact: Tom Farrell, 605-745-4600
WIND CAVE NATIONAL PARK, S.D. - All cave tours and programs at Jewel Cave National Monument and Wind Cave National Park, along with entrance to Devils Tower National Monument and Badlands National Park, will be free to the public on Saturday, September 27, and Sunday, September 28. Free activities on Saturday are in recognition of National Public Lands Day and on Sunday to honor newly naturalized citizens of the United States.
Jewel Cave visitors may choose either the Scenic Tour or the Discovery Talk. The Scenic Tour provides an opportunity to view the variety of beautiful, colorful, and rare cave formations for which Jewel Cave is famous. This half-mile tour is moderately strenuous, follows a paved lighted trail with over 700 stairs, and lasts approximately an hour and twenty minutes. The Discovery Talk is a twenty-minute wheelchair accessible program conducted in one large room of the cave. Cave tours will begin at 9:20 a.m. with the last tour at 3:35 p.m.
Wind Cave will be offering tours lasting an hour and fifteen minutes every thirty minutes from 9 a.m. to 4:30 p.m. Visitors will walk along the Natural Entrance Tour and view the boxwork for which the cave is famous. This half-mile tour is moderately strenuous with approximately 300 stairs, most of them going down.
Cave temperatures at both caves are around 50 ºF. A light coat or sweater and sturdy walking shoes are recommended. All tours begin at the respective visitor centers, and cave tour tickets will be issued on a first come, first served basis. This event can be extremely popular resulting in long wait times and possible "sold out" tours.
Besides free entrance at Devils Tower National Monument, visitors are invited to explore over seven miles of trails, picnic along the Belle Fourche River, or sit and watch the prairie dogs. In conjunction with the National Public Lands Day, the Devils Tower Natural History Association and the Access Fund will host a volunteer trail building day beginning at 9 a.m. on September 27th.
There is also free entrance into Badlands National Park. The Ben Reifel Visitor Center will be open 8 a.m. to 5 p.m. with exhibits and a video available for viewing. The Cedar Pass Lodge will be open 8 a.m. to 4 p.m. Visitors are encouraged to enjoy short hikes near the visitor center and to tour the park.
For more information on weekend activities, please contact Badlands National Park at 605-433-5241, Devils Tower National Monument at 307-467-5283, Jewel Cave National Monument at 605-673-2061, or Wind Cave National Park at 605-745-4600. Information is also available on individual park websites through www.nps.gov.