Wind Cave Begins Tenth Year of Elk Surveillance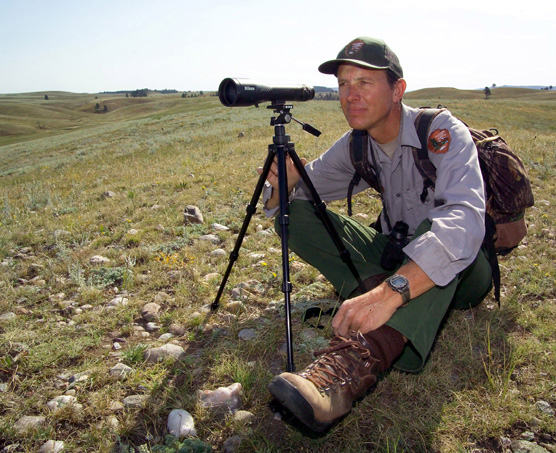 News Release Date:
September 18, 2008
Contact: Tom Farrell, 605-745-4600
WIND CAVE NATIONAL PARK, S.D. – Biological Science Technician Duane Weber's job can be described in numbers: 1,600 miles hiked, three pairs of boots worn out, and tens of thousands of elk observations. Weber spends just about every workday hiking around Wind Cave National Park monitoring 45 radio-collared elk and observing the health of the park's elk population.
"I get paid to hike all over the backcountry of Wind Cave and look for elk," said Weber. "If I ever quit, there are a whole host of fellow employees who would like my job."
Since 2003, Weber has been tasked with observing the park's elk and deer herds for diseased animals. He spends the majority of his time using radio telemetry to locate and observe elk for signs of Chronic Wasting Disease (CWD), which can include droopy ears, drooling, and an emaciated look. This year-around surveillance program allows the park to observe and remove suspect animals as needed.
While CWD has been a concern locally, recent cases in Montana have focused on the role elk play in transmitting brucellosis.
"Since 1986, when Wind Cave's bison herd was declared brucellosis free, over 3,900 bison have been tested for brucellosis and all have been negative. The last elk that tested positive was in 1980," said park superintendent Vidal Davila. "If brucellosis was present in the park, it would show up in the on-going bison testing."
The park works closely with the South Dakota Game, Fish and Parks Department managing wildlife in the southern Black Hills. Elk regularly move in and out of the park as part of their natural movement patterns.
 "Surveillance done over the years indicate that there is no evidence of brucellosis or tuberculosis in free ranging elk in the Black Hills including Wind Cave," said South Dakota State Veterinarian Sam D. Holland, DVM.
Weber knows most CWD cases are discovered in the winter, when the animals are stressed from the weather, and he is already gearing up for the cold. He recently ordered a new pair of boots.
Last updated: April 10, 2015