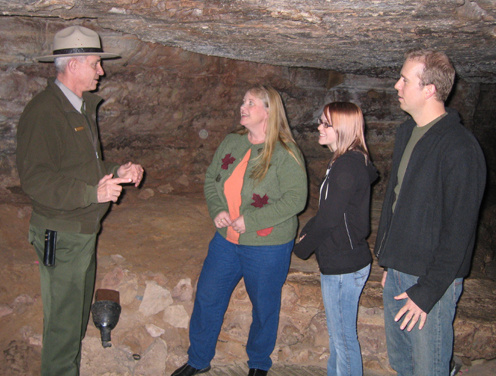 News Release Date:
September 14, 2009
Contact: Tom Farrell, 605-745-4600
On September 26, National Public Lands Day, Jewel Cave National Monument and Wind Cave National Park will host visitors and volunteers for a special day of service and celebration. Additionally, entrance fees at all national parks will be waived for the day.                                                                                    
"The American people have created 391 national parks and entrusted their care to the National Park Service.  With the help of volunteers and park partners, we are proud to preserve these places and to share their stories with more than 275 million visitors every year," said Dan Wenk, Acting Director of the National Park Service.  "We hope everyone will come out and join us on September 26 to celebrate the parks and our shared commitment to make America's Best Idea even better."
Jewel Cave visitors may choose either the Scenic Tour or Discovery Tour as their venture into the second longest cave in the world. The Scenic Tour provides an opportunity to view a variety of beautiful, colorful, and rare cave formations for which Jewel Cave is famous. This half-mile tour is moderately strenuous, follows a paved lighted trail with over 700 stairs, and lasts approximately an hour and twenty minutes. The Discovery Tour is a twenty-minute wheelchair accessible program, conducted in one large room of the cave. Cave tours will begin at 9:20 a.m. with the last tour at 3:35 p.m.
Wind Cave will be offering tours lasting an hour and fifteen minutes every thirty minutes from 9 a.m. to 4:30 p.m. Visitors will walk along the Natural Entrance Tour and view the boxwork for which the cave is famous. This half-mile tour is moderately strenuous with approximately 300 stairs, most of them going down.
Cave temperatures at both caves are around 50 ºF. A light coat or sweater and sturdy walking shoes are recommended. All tours begin at the respective visitor centers, and cave tour tickets will be issued on a first come, first served basis. This event can be extremely popular resulting in long wait times and possible "sold out" tours.  Visitors are encouraged to explore the surface trails and visitor center displays during their wait in order to fully appreciate the significance behind each site.
Jewel Cave is also celebrating this date by offering a Wild Caving Tour for interested participants. This strenuous tour takes up to five cavers off-trail into the underground wilderness areas of the monument.  The trek lasts between three to four hours. All cavers are required to fit through an eight and a half inch by 24-inch opening.  Participants must be eighteen years of age or older; however, young adults sixteen or seventeen are allowed on the tour with parental approval.  The tour requires a reservation and has an associated fee.  The tour begins at 11:30 a.m. and concludes around 4:00 p.m.
People interested in volunteering at Jewel Cave on this special date are encouraged to report to the visitor center by 9:00 a.m. Volunteers will be picking up litter along the monument roadways, parking lot areas, and trailhead locations.  This clean-up effort will take place through 11:30 a.m. 
Visitors wishing to begin volunteering at Wind Cave can pick up an application form from the visitor center.  The park is looking for people interested in managing a digital library, staffing the information desk, and answering phones.
National Public Lands Day is a time to celebrate the heritage sites of the United States.  All visitors are encouraged to explore these natural and cultural treasures and take the time to learn the significance behind each location.  For more information, contact the visitor centers at 605-673-8300 (Jewel Cave) or 605-745-1130 (Wind Cave).