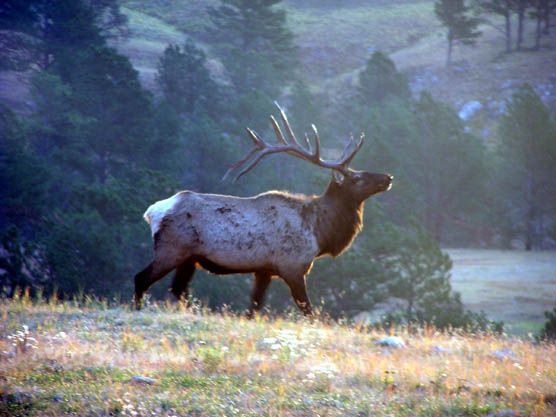 News Release Date:
September 10, 2009
Contact: Tom Farrell, 605-745-4600
WIND CAVE NATIONAL PARK, S.D. – Rangers at Wind Cave National Park will be leading programs this September to listen for the bugle of the Rocky Mountain elk. The elk's high-pitched whistle heralds the arrival of fall and the mating season of the Rocky Mountain elk.
Throughout the month of September, rangers are giving brief interpretive programs about elk before leading a caravan to a nearby pullout to listen for them. These programs are offered Tuesday, Thursday, and Saturday evenings through September 26. Participants meet at the Elk Mountain Campground Amphitheater at 7 p.m. and are encouraged to bring a flashlight, a blanket to sit on, and to dress warmly.
"Even if you have heard elk bugling before, there is something about listening to this eerie sound echoing out of the darkness that makes a repeat trip worthwhile," said park superintendent Vidal Davila. "It is truly one of nature's wild sounds."
The fall ranger program schedule also includes Natural Entrance Tours of Wind Cave throughout the day. Participants are encouraged to bring a light coat or sweater and good walking shoes. The tour lasts approximately 75 minutes and involves 300 stairs, most of which are going down. The park visitor center is open from 8 a.m. to 6 p.m. through September 26.
Beginning September 27 through October 17, hour-long tours of the Garden of Eden area are offered at 9:30 a.m., 11:30 a.m., 1:30 p.m., and 3:30 p.m. and the visitor center is open until 5 p.m. The park's winter interpretive schedule begins on October 18 with tours of the Garden of Eden at 10 a.m., 1 p.m., and 3 p.m. and visitor center hours of 8 a.m. to 4:30 p.m.
To hear a recording of an elk bugling, visit the park's website at https://www.nps.gov/wica. For more information, call the park at (605) 745-4600.