Visitor Services at Wind Cave National Park Closed Due to Myrtle Fire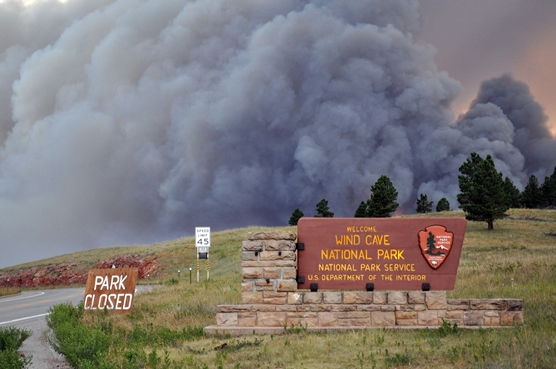 News Release Date:
July 21, 2012
Contact: Tom Farrell, 605-745-1130
Wind Cave National Park, S.D. - Visitor services at Wind Cave National Park remained closed Saturday due to the Myrtle Fire. The 9,000 acre fire was reported Thursday, July 19, a few miles west of the park boundary. Since then, the fire has burned along the park's western border but has not entered the park proper.
Visitor services were shut down Thursday afternoon, and park employees and families were evacuated later that night. An evacuation center was opened at the Mueller Center in Hot Springs to provide shelter. As a precautionary move for firefighter safety, the power to the park and surrounding area was shut off early Friday morning.
Highway 385 north of the junction with Highway 87 is closed to Pringle, as is Wind Cave itself and all hiking trails. NPS Roads 5 and 6 remain open.
At this point, there is no estimation of when the power will return, and it will be safe to resume regular visitor services. The park expects needing at least a day to move employees back into their residences and power up facilities before resuming normal operations.
For updated information, visit www.nps.gov/wica or call the park visitor center at 605-745-4600.
Last updated: April 10, 2015