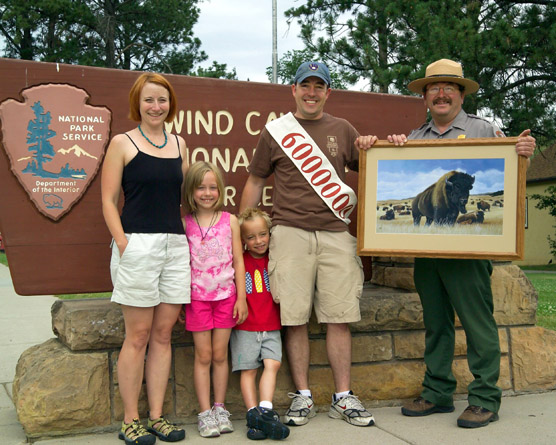 News Release Date:
July 16, 2008
Contact: Tom Farrell, 605-745-4600
WIND CAVE NATIONAL PARK, S.D. – Joe Bree waited 31 years to visit his brother in Rapid City, South Dakota, but when he did, it turned into a vacation he will never forget. One hundred and five years in the making, Bree and his family became Wind Cave's sixth-millionth visitor Wednesday, July 16. Told of the honor, Bree's response was, "Glad we found that parking space."
Rangers began taking people through the cave in 1903, after the cave was set aside as the eighth national park. That year 2,515 people toured the cave. Annual visitation peaked in 1968 with 138,348 visitors. Currently, the cave averages 85,000 to 90,000 visitors yearly.
"When cave tour groups are limited to forty people at a time, this is a significant milestone," said Acting Superintendent Steve Schrempp. "This is a celebration of all the men and women who developed the tour routes and supported the ranger-led tours all these years."
The Bree family was presented a framed bison print and sweatshirts with a map of the cave on the back courtesy of the Black Hills Parks and Forest Association bookstore.
"This was quite a surprise and a real honor. I want to thank my brother Don for moving to Rapid City," said Joe Bree. "We had a great tour and being the sixth millionth visitor made the trip even more special. And as a bonus, the kids got to eat cake!"
Visitation at the world's fourth-longest cave is up seven percent for the year. Cold rainy weather in May and June actually helped visitation as visitors to the area sought alternate activities. The cave's constant 53-degree temperature is a cool alternative to a hot summer day or inclement weather. The cave is open year-around. For more information, visit www.nps.gov/wica.