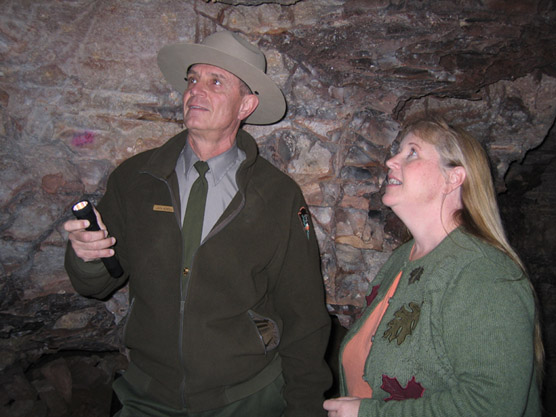 News Release Date:
June 10, 2009
Contact: Tom Farrell, 605-745-1130
WIND CAVE NATIONAL PARK, S.D. – Rangers at Wind Cave National Park will be offering free tours of the Natural Entrance, Garden of Eden, and Fairgrounds on the weekends of June 20-21, July 18-19, and August 15-16.
Normally priced at $7 to $9, tours on these weekends will be free as part of a national effort recently announced by Secretary of the Interior Ken Salazar to encourage Americans to visit their national parks this summer.
"Entrance fees across the country are being waived these weekends in acknowledgement of the tough economic times the country is in," said park superintendent Vidal Davila. "National parks offer affordable vacations for families to explore and enjoy the country's rich heritage."
Rangers will be offering thirty cave tours a day this summer through the fourth-longest cave in the world beginning at 8:40 a.m. with the last tour leaving at 6 p.m. Visitors will need a light coat or sweater and sturdy shoes. All cave tours begin at the visitor center, open 8 a.m. to 7 p.m.
Other tours include two daily candlelight tours to the Pearly Gates and, for the more adventurous, a half-day Wild Cave Tour. This tour includes climbing and crawling through a non-developed section of cave using a headlamp and kneepads provided by the park. Participants need to be 8 years of age for the Candlelight Tour and 16 for the Wild Cave Tour. Reservations are recommended for both tours.
Surface activities this summer include a daily prairie hike at 9 a.m., along with an evening campfire program given in the Elk Mountain Campground Amphitheater beginning at 9 p.m.
Davila continued, "We encourage people in the region to take advantage of their local parks. These free weekends are our way of making it easier to visit and enjoy your great outdoors with your family for a day or a weekend of fun."
For more information, contact the park at 605/745-4600 or visit www.nps.gov/wica.