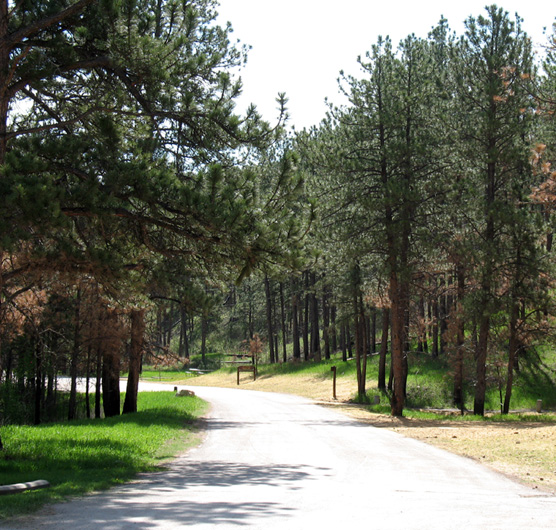 News Release Date:
May 21, 2009
Contact: Tom Farrell, 605-745-1130
WIND CAVE NATIONAL PARK, S.D. – After a six-month project to install new water lines, the Elk Mountain Campground at Wind Cave National Park is reopening Friday, May 22.
"The new system replaced the original water lines installed in 1964 and includes a new water reservoir and over 11,000 feet of water lines," said park superintendent Vidal Davila. "Our campground has 75 sites and is located just a half-mile north of the park's visitor center. It is open year-around and always has sites available."
Rangers will be presenting nightly programs at the campground throughout the summer. On Saturday and Sunday of Memorial Day Weekend, evening campfire program begins at 8:30 p.m. Beginning Thursday, June 11, and continuing through August 15, programs begin at 9 p.m. From August 16 to September 7, programs begin at 8 p.m. Topics change daily. Call 745-4600 to learn a specific evening's topic.
Also beginning June 11, rangers will be offering thirty cave tours a day through the fourth-longest cave in the world. The first tour begins at 8:40 a.m. and the last tour leaves at 6 p.m. Besides Natural Entrance Tours, walking tours of the Fairgrounds, Garden of Eden, and candlelight tours to the Pearly Gates will be offered throughout the summer. For the more adventurous, half-day cave crawling tours are led through a non-developed section of cave. Each participant is given a headlamp and kneepads before following their guide into a wild section of cave. Reservations are strongly recommended for the Candlelight and the Wild Cave Tour.
All cave tours begin at the visitor center, open 8 a.m. to 7 p.m. beginning June 11, and require a fee. Visitors will need a light coat or sweater and sturdy shoes. Ranger-led surface activities include a daily prairie hike at 9 a.m.
For those wanting to wander off the beaten track, the park hosts 44 square miles of prairie and forest. People can use the 30 miles of existing park trails or strike off on their own. Horses are allowed in the backcountry; obtain a permit at the park's visitor center before beginning. For more information, call the park at 745-4600 or visit www.nps.gov/wica.