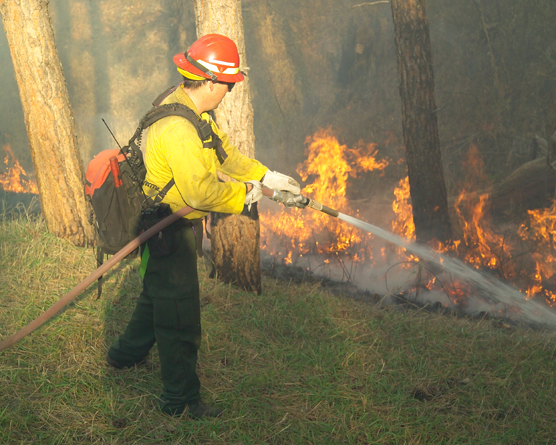 News Release Date:
April 15, 2010
Contact: Tom Farrell, 605-745-1130
Wind Cave National Park, S.D. – Fire crews from Wind Cave National Park and the Northern Great Plains Fire Office are preparing control lines and equipment for a planned 397-acre burn south of the Rankin Ridge Fire Tower this spring.
"The primary objective of this burn is to bring fire back into an area that has had fire suppressed since perhaps the park's creation," said park superintendent Vidal Davila. "Our tentative time frame is to burn sometime in the month of May, if weather and fuel conditions are within acceptable levels."
The project area includes two units that could be burned independently or together. Assisting with the burn are firefighters from other National Park Service units, the Black Hills National Forest, Buffalo Gap National Grasslands, and the U.S. Fish and Wildlife Service.
The Rankin Ridge Fire Tower Road and the Centennial and Sanctuary Trails will be closed during the burn, and traffic may be slow along Highway 87 during the day of ignition. No other road or trail closures are anticipated. Smoke from the fire may be heavy at times along Highway 87 and visible from the surrounding region.
This fire represents a continuation of the park's successful prescribed fire program which began in 1972. Segments of the park are burned each year, under controlled conditions, to simulate natural fires. Prescribed fires maintain the balance between forest and prairie, remove the build-up of dead fuels lessening the chance of a catastrophic wildfire, and rejuvenate the native prairie grasses. 
Prescribed fires are carefully conducted under identified and approved prescription conditions.  Factors such as humidity, fuel moisture, wind speed and direction, and short and long-range weather patterns are all considered in establishing the acceptable conditions for conducting a prescribed fire. If the prescribed set of conditions does not exist on a specific day, the planned fire is postponed.