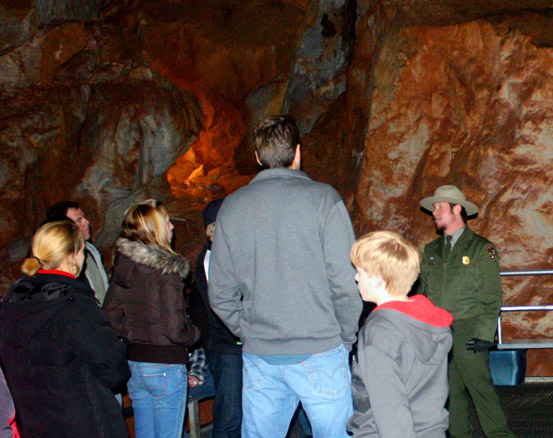 News Release Date:
April 8, 2010
Contact: Jewel Cave: Bradley Block, 605-673-8330
Contact: Wind Cave: Tom Farrell, 605-745-1130
WIND CAVE NATIONAL PARK, SD – Free tours and special activities are scheduled at Jewel Cave National Monument and Wind Cave National Park to celebrate this year's National Park Week. From Saturday, April 17, through Sunday, April 25, Discovery Tours at Jewel Cave and Garden of Eden Tours at Wind Cave will be free. In addition to these below ground programs, both park units will be offering special surface activities. 
"Free Discovery Tours at Jewel Cave offer visitors the opportunity to learn about the exploration of the second-longest cave in the world," said Mike Tranel, acting Jewel Cave superintendent. "Each Discovery Tour provides a 20-25 minute experience inside the cave where visitors will see cave formations such as calcite crystals and nailhead spar."
Discovery Tours, offered daily at 11:35 a.m., 1:35 p.m., and 3:35 p.m. throughout National Park Week, are limited to twenty people. On Saturday, April 24, additional Discovery Tours will be offered at 9:05 a.m. and 10:35 a.m.
Wind Cave will be offering free Garden of Eden Tours lasting one hour beginning at 9:30 a.m., 11:30 a.m., 1:30 p.m., and 3:30 p.m. through April 24. On Sunday, April 25, tours will be offered at 9 a.m., 10:30 a.m., 11:30 a.m., 1:30 p.m., 2:30 p.m., and 4:30 p.m. This quarter-mile tour is moderately strenuous with approximately 150 stairs. Visitors will experience one of the most complex caves in the world and view the rare cave formation called boxwork. 
Special surface activities at Jewel Cave include a guided nature hike on the ever-popular Roof Trail at 1 p.m. on Saturday, April 24. This quarter-mile trail loops through a ponderosa pine forest with vistas overlooking open meadows, rocky outcroppings, and wildland fire scars.  Hikers are advised to dress for the weather. A Junior Ranger Day activity for children five to twelve years old begins at 3 p.m. on April 24. Participants, through a brief exploration hike, will observe animal tracks in the field and craft their own tracks using rubber molds. All programs begin at the visitor center.
Rangers at Wind Cave will be offering family orientated hikes beginning at 1:30 p.m. on Sundays April 18 and 25. The first weekend's hike will be an excursion off-trail to "the big trees", an area of old-growth ponderosa pine trees. The second weekend's hike will be along Beaver Creek, exploring the park's seldom seen world of a riparian habitat. Both of these moderately strenuous hikes meet at the visitor center and then car caravan to the hike's trailhead. Participants should be dressed for the weather and have water and good hiking shoes.
Wind Cave rangers will also present a special bird hike on Sunday, April 25, beginning at the visitor center at 8:30. This 90-minute walk will focus on exploring the park birds of early spring.
Cave temperatures at both caves are around 50 ºF. A light coat or sweater and sturdy walking shoes are recommended. All tours and activities begin at the respective visitor centers, and cave tour tickets will be issued on a first come, first served basis. These tours can be extremely popular resulting in long wait times and possible "sold out" tours. 
For more information related to National Park Week, or for normal tour times and reservations, call 605-673-8300 for Jewel Cave or 605-745-4600 for Wind Cave.