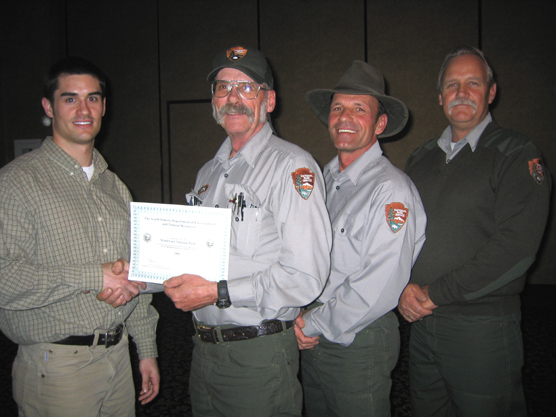 News Release Date:
March 25, 2010
Contact: Tom Farrell, 605-745-1130
Contact: Kelli Buscher, 605-773-3351
WIND CAVE NATIONAL PARK, S.D. – The South Dakota Department of Environment and Natural Resources (DENR) announced recently that the Wind Cave National Park wastewater treatment system is the recipient of the 2009 Operation and Maintenance Excellence Award. This award is for outstanding wastewater system operation and environmental compliance with its state surface water discharge permit for the past year.
The award was presented during the 2010 South Dakota Water and Wastewater Association Wastewater Operators Seminar held March 24-25, 2010, in Rapid City.
"The people who maintain and operate the systems that collect and treat our wastewater, 24 hours a day and 7 days a week, are on the front lines of protecting public health and the environment, each and every day,"  said DENR Secretary Steve Pirner. "That is why DENR is proud to recognize with this award those wastewater systems and operators who had outstanding operations, maintenance, and environmental compliance during all of 2009."
Qualifications for the Operation and Maintenance Excellence Award are based on a system's compliance with the state's environmental requirements, discharged water quality, monitoring reports, state inspections, and proper operation and maintenance of the wastewater treatment facility.