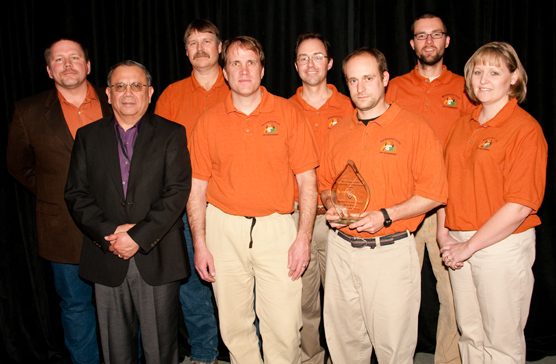 News Release Date:
March 10, 2010
Contact: Tom Farrell, 605-745-1130
WIND CAVE NATIONAL PARK, S.D. – Staff from the Northern Great Plains Park Group based at Wind Cave National Park recently received the Brad Cella Award for diligence and proficiency in managing fuels funds to reduce risk to critical park values. The award was presented at the 2010 Fire and Aviation Management Workshop in San Antonio, Texas.
The award is given annually to the fire unit or park for diligence and proficiency in managing vegetation as it relates to wildfire risks. This includes conducting prescribed burns and removing vegetation using thinning, piling, and chipping. These activities help reduce the amount of fuels that could contribute to a catastrophic wildfire.
Award recipients are: Jim McMahill, Al Stover, Eric Allen, Dan Swanson, Andy Thorstenson, Jon Freeman, Toby Nettifee, Karri Fischer, Angie Nellen, Sonya Feaster, Kenn Perreault, Keith Mitchell, Noah Daniels, Matt Koller, and Andrea Holmquist.
"This national award acknowledges the fire program within the Department of Interior that has best aligned their efforts with the goals of the Department of Interior and the National Park Service's Hazard Fuels Program," said Dan Buckley, National Fire Operations Chief for the National Park Service. "The competition for this award is strong, and we were very pleased to award it to the Northern Great Plains Park Group."
The Northern Great Plains Park Group provides fire management support for eight National Park units in South Dakota, Nebraska, and Wyoming. In addition, fire ecology support is provided for three additional units in North Dakota. The award is named after Brad Cella, a nearly 30-year veteran of the National Park Service who worked extensively in fire and natural resource management and who passed away in 2007.