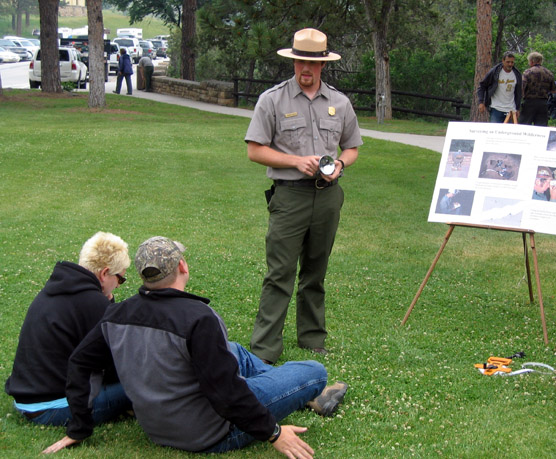 News Release Date:
January 12, 2009
Contact: Tom Farrell, 605-745-4600
WIND CAVE NATIONAL PARK, S.D. – Visitation at Wind Cave National Park was up 6% in 2008. With increased staffing and more ranger patrols, there were fewer motor vehicle accidents last summer and shorter lines for tours. The park hired 13 additional seasonal personnel as part of the National Park Service's Centennial Initiative, a program focused on the one hundredth anniversary of the National Park Service in 2016 and designed to prepare parks and the National Park Service for the next 100 years.
Cave tour visitation was up 6% over 2007 numbers and 8% over the five-year average, yet because of four additional interpretive rangers the wait time for tours actually decreased compared with previous years.
"Our visitation was strong this year, and we were able to handle the increase thanks to our Centennial funding," said park superintendent Vidal Davila. "We were able to increase the number of protection rangers patrolling park roads, and we saw a marked decrease in the number of car versus animal accidents last summer."
Other annual highlights included the continued implementation of several management plans including treating 107 acres for exotic plants using manual, biological, and prescribed fire controls, 103 acres of prairie dogs were controlled as prescribed under the 2006 Prairie Dog Management Plan, and 93 acres in and around the campground were burned to reduce fuel loads and help restore native conditions. Last year, 14 ferret kits (babies) were observed; the first ever documented in the park.
Visitors were also treated to a new look in the cave, as the first phase of a project to replace the aging cave lighting system was installed along the Fairgrounds Tour Route. Over five miles of wires and 400 lights were placed in the cave. The second phase of the project is expected to be completed in the spring of 2009.