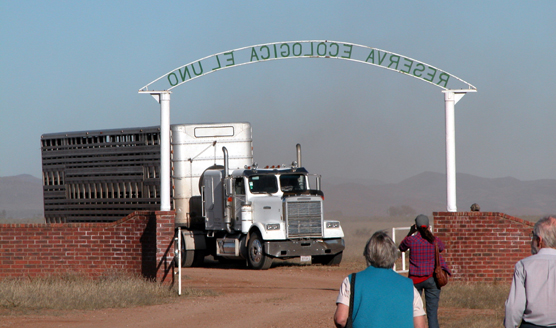 News Release Date:
November 17, 2009
Contact: Tom Farrell, 605-745-4600
WIND CAVE NATIONAL PARK, S.D. – Twenty-three bison from Wind Cave National Park will soon be roaming the prairie of their new home in northern Mexico. The bison arrived at the El Uno Ecological Reserve, a 46,000 acre reserve managed by The Nature Conservancy – Mexico, in the northern Janos Valley in the State of Chihuahua, after a 24-hour trip from South Dakota. The bison are part of a cooperative effort between the two countries to restore bison to their historical range in Mexico.
The unique partnership opportunity came about after the Comisión Nacional de Areas Naturales Protegidas (CONANP; the national agency responsible for the management of protected areas and threatened species in Mexico), in collaboration with a Mexican consortium for bison restoration, requested bison from Wind Cave National Park.
"We are pleased to support Mexico's efforts to restore bison, which are considered an endangered species in Mexico," said National Park Service Director Jon Jarvis. "This project is an outstanding example of international wildlife management collaboration between the U.S. and Mexican governments, the U.S. Departments of the Interior and Agriculture, and private environmental advocates for the recovery of bison in Mexico."
Mexico and the United States have a long history of cooperation in conservation matters.  In the 1980s, Mexico helped restore the endangered Kemp's Ridley sea turtle to Padre Island National Seashore, and the two countries have an active program of cooperation in various park management issues, including invasive species management, monitoring of wildlife, and environmental education, among others. 
The Wind Cave bison will be the founding members of the Mexican Bison Recovery Effort and serve as a keystone species in an ecosystem managed with resident populations of prairie dogs, burrowing owls, black-footed ferrets, and other important species of the southern Great Plains and Chihuahuan Desert.
"This collaboration is exemplary in its contribution to the ideals set forth in the Department of the Interior Bison Conservation Initiative. It builds upon and coordinates efforts to sustain a strong foundation for bison conservation throughout this continent, throughout this century," said Dr. Bert Frost, Associate Director for Natural Resource Stewardship and Science in the National Park Service.
The goal of bison restoration effort in Mexico is to establish one herd in each of the four states where bison are known to have historically occurred. Recent genetic studies conducted by Texas A&M University indicate that the Wind Cave herd is very high in genetic diversity and is free of domestic cattle gene introgression making them ideal for restoration efforts. 
After a 14-day period of observation and acclimation, the bison will be released into the expanses of the El Uno Ecological Reserve, which is located within the proposed Janos Biosphere Reserve. This 1,350,000 acre Biosphere Reserve would be the first federally protected area created to protect grasslands in Mexico.