Park Wildlife at Risk Due to Winter Drivers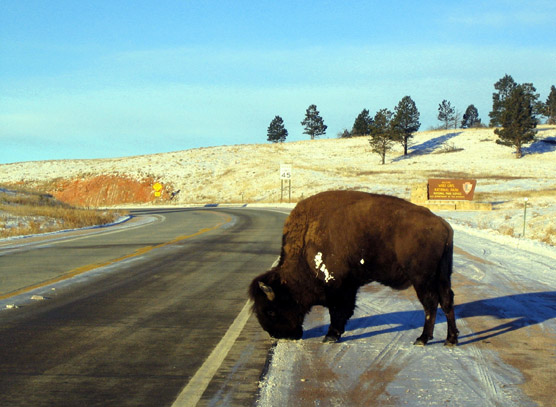 News Release Date:
January 22, 2007
Contact: Tom Farrell
WIND CAVE NATIONAL PARK, S.D. – Speeding drivers and poor winter driving conditions create a deadly combination for wildlife in Wind Cave National Park. Each winter, rangers see a rise in accident rates involving vehicles and wildlife caused primarily by people driving too fast on park roads. In the last two years, 19 large animals, primarily bison, were killed as a result of motor vehicle accidents.
"Highway 385, the main route between Hot Springs and Custer, is only six miles long inside the park," said Acting Superintendent Rick Mossman. "Someone driving 55 miles per hour instead of the posted limit of 45 only saves themselves a minute and a half traveling through the park, while increasing their stopping distance in an emergency by a third. In wet conditions, this high speed doubles their stopping distance."
During winter months, especially in snowy conditions, wildlife patterns change. It is not uncommon to find bison along highways licking salt used on roads outside the park and deposited inside the park by passing vehicles. Accidents involving large wildlife have the potential to cause serious injuries to drivers and their passengers. Studies show the best way to reduce these types of accidents is for drivers to slow down.
Mossman added, "As large as a bison are, they are very difficult to see at night and nearly impossible in poor visibility. We encourage everyone to not exceed the speed limit or driving conditions."
Last updated: December 29, 2017