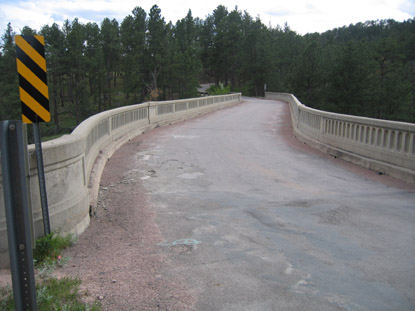 News Release Date:
August 30, 2006
Contact: Tom Farrell, 605-745-4600
WIND CAVE NATIONAL PARK, S.D. – Highway 87 in Wind Cave National Park will close for upwards of four weeks beginning September 11 while contractors work on the Beaver Creek Bridge. The road will be closed from the junction of Highway 385 and Highway 87 to the Rankin Ridge Fire Tower access road.
This 4.8 million dollar rehabilitation of Highway 87 will continue through next August. The project's general contractor, the Hills Materials Company, will require an additional road closure in January when work begins on the Pigtail Bridge. This second closure could last eight weeks. Resurfacing of Highway 87 and the north and south access roads into the visitor center will begin next spring. There will be no road closures during this time, but there will be possible thirty-minute delays.
"This project will fulfill much needed rehabilitation of park roads including repairs on the two historic bridges," said Superintendent Linda L. Stoll. "Both bridges will now be able to handle legal loads, improving safety for both large vehicles and passenger cars."
For more information, call the park at 605-745-4600.